Marble casting of the Virgin Mary from the Pietā donated to St. Thomas More Parish
Friday, Jan. 10, 2020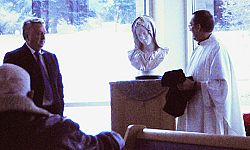 IC photo/Linda Petersen
+ Enlarge
COTTONWOOD HEIGHTS — Members of two local faith communities came together on Holy Family Sunday, at St. Thomas More Catholic Church in a mutual love of art and the Madonna. That day, the Escobar family — Sean Escobar; his wife, Crystal; and his parents, Tony and Randi Escobar — donated a Carrera marble casting of the bust of the Virgin Mary from Michelangelo's famous sculpture, the Pietà, to the parish.
"It's a wonderful gift for the life of parish; the parishioners here have a great love of Mary and so this particular donation being unveiled on Holy Family Sunday links our love for Mary to Christ," pastor Father John Evans said. "And on Jan. 1 we celebrate the feast of Mary, Mother of God. It couldn't be more fitting that we have the unveiling near this feast day, because she was there at the foot of the cross. She was there for his life, his ministry, his suffering, his death, and most importantly, his resurrection."
The donation was part of a larger program by Arte Divine, a non-profit organization dedicated to placing castings of the Pietà in 100 cathedrals, churches, hospitals and academic settings around the world. In this program, private or corporate benefactors acquire the castings and then donate them to Catholic or educational institutions as legacy gifts.
"Our mission is to facilitate the placement of these sublime sculptures in settings where they can touch the lives and hearts of the faithful," Arte Divine's Facebook page says.
The Escobars, who live in Cottonwood Heights and are members of The Church of Jesus Christ of Latter-day Saints, have a Catholic heritage. Tony Escobar was raised a Catholic and considered the gift a way to honor both his heritage and his father, Randi Escobar said.
It was Randi Escobar's suggestion to donate the casting to the parish, Tony Escobar said.
"We drive by here each and every day and we see this beautiful facility," he said. "Randi said, 'Let's donate it to them because there's people there to whom this is so wonderful; it just needs to be seen.' We just felt this was the place; there was just something we felt."
Tony and Randi Escobar, along with Arte Divine founder David Newren, attended the Dec. 29 unveiling and blessing by Fr. Evans. Sean and Crystal Escobar were unable to attend.
Newren, who grew up in Utah as a member of the LDS Church, said Arte Divine was founded after he received an invitation from the Vatican 20 years ago to view the Pietà.
"It was an invitation for me to connect with the divine, to contemplate God and my relationship with him," he said.
Shortly after he viewed the Pietà, he toured the Vatican's restoration department and saw a mold of the bust of the Virgin Mary from the Pietà. He asked if it would be possible to use the mold to reproduce copies of the piece.
Newren obtained permission from the Vatican Observatory Foundation to produce what he called "a transcendent sculpture, an image of the Christian faith, a most beautiful image of Mary, an invitation for all of us to contemplate the divine, to rise above our daily sorrows and trials and work."
On Dec. 29, Tony Escobar briefly spoke to those who gathered for the unveiling and blessing.
"This beautiful gift being given to you beautiful people today. This is where she belongs," he said. "My son Sean and his wife Crystal are so happy this is being presented to you today, and I hope you all enjoy it every day very much."
The bust at St. Thomas More is one of 99 casts or copies made from a mold commissioned by Arte Divine. The cast at St. Thomas More Church is #61 and is valued at $39,000.
"The life-sized cast is an exact replica because it is a mold and not just an artist trying to copy it," Fr. Evans said.
The bust of the Virgin Mary is housed on a temporary podium in the southeast corner of the church, but the parish is commissioning a custom stand, Fr. Evans said.
The original Pietà, a life-sized sculpture of the Virgin Mary holding Christ's body after his removal from the cross, was sculpted in 1498 by Michelangelo, who was then 23. It is housed in St. Peter's Basilica.
Arte Divine also was able to produce a mold of the entire piece, and castings have been placed in locations around the United States, including at Dixie State University's Sears Art Museum Gallery in St. George.