Marriage retreat scheduled for March 7
Friday, Feb. 14, 2020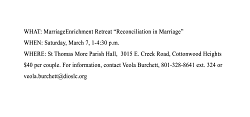 + Enlarge
Marriage in the Catholic Church is a sacrament between one man and one woman, each of whom have been baptized. "By this sacrament, Jesus gives to spouses the grace they need to love each other," the U.S. Conference of Catholic Bishops states. Marriage is a lifelong, faithful union at the heart of which is the total gift of self that each spouse offers to the other, becoming "one flesh" and being open to children, "who are a living reflection of their love," as Familiaris Consortio states.
The USCCB offers resources to uphold marriage as a lifelong union of one man and one woman through its dedicated websites ForYourMarriage.org, PorTuMatrimonio.org, and MarriageUnique-ForAReason.org.
SALT LAKE CITY — At this year's diocesan marriage retreat "Reconciliation in Marriage," which will be held March 7, Bruce and Jeannie Hannemann will share their own experience of a marriage beset by turmoil that was saved through the grace of God.
In all marriages, "There's going to be a lot of different things that we might have disagreements about, we might struggle on how we can come to a common vision on different aspects that we might have differences in opinion on. We'll address all of those types of aspects and how you can reconcile when you are having difficulties," said Jeannie Hannemann, a radio talk host, author, consultant and the primary author of "Navigate Betrayal," an online healing program launching this month for wives dealing with their husband's infidelity.
The Hannemanns are the founders of Elizabeth Ministry International, which offers programs, resources and support for those who are struggling with life and love issues, which can vary from pornography addiction to infertility.
The Hannemanns struggled with infidelity in their marriage as a consequence of Bruce Hannemann's lifelong pornography addiction, which began at the age of 9. His wife was aware of her husband's problem with pornography when they married but both mistakenly thought that it would no longer be an issue once they were sexually intimate. Bruce Hannemann kept the extent of his addiction hidden from Jeannie for many years.
One day Jeannie Hannemann was on her knees in prayer, pouring her heart out to God and telling him how much she hated her husband in that moment. "I felt in my spirit God respond to me by saying, 'Then can you love him for me?' That was a huge turning point for me," she said.
Hannemann said the two were on the brink of divorce and her husband was contemplating suicide when that turning point came. Beginning there, the Hannemanns were able to find treatment and healing. Now they share the lessons they have learned with couples across the United States through their ministry.
"Ours is an example of a very extreme need for reconciliation," but in all marriages there are areas of friction that can, if not addressed, erode the strength of the couple's relationship, Hannemann said. "It's very important for people not to think to come to this retreat that they have to have a big problem like infidelity. Anyone who is married needs a few more tools in their toolbox on how you can really keep your marriage in unity and reconcile when you have differences."
"We'll be covering an approach to your marriage, to your relationship that can help you have reconciliation in little things and big things," she said of the retreat. "The truth is that if we hadn't found a way to help ourselves expand our unity in the little things, we wouldn't have made it when the big thing came."
Couples will have opportunities at the retreat to talk with each other about the things they are learning there, Hannemann said.
Hannemann also encourages married women and men interested in strengthening their marriage whose spouse is unable or unwilling to attend the retreat to come alone.
"Every marriage has something that needs to be healed, and this is an excellent way to help us explore those things in our marriage and help bring us back into full reconciliation," Director for Marriage and Family Life Veola Burchett said. "Bruce and Jeannie's personal story is an example that the hardest things can be faced head-on and overcome."
The retreat will conclude with a Mass at which Bishop Oscar A. Solis will preside.