Mary Angotti Vigor
Friday, Feb. 08, 2019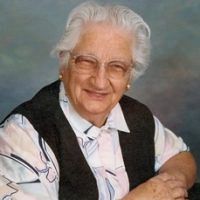 Courtesy photo
+ Enlarge
November 14, 1915 ~ January 26, 2019
Mary Angotti Vigor passed away January 26, 2019 in Price at the age of 103.
She was born November 14, 1915 to Frank and Rachella Tallarico Angotti in Hiawatha, Utah. She attended Notre Dame School in Price. Married Bill Vigor on June 17, 1932. Mary lived in Wilmington, California for several years, and then returned to Helper in 1949, where she lived in her family home until just after her 100th birthday. She became involved in several civic endeavors and made many lifelong friends in Helper. Mary was a member of Stella D'America Italian Lodge, The American Legion Ladies Auxiliary, the Slovenian Home, The 8 & 40, The Red Hat Society and the Catholic Church.
She loved crocheting, sewing, bead work and cooking. Her specialty was large family Italian meals, and she was a master gnocchi and marinara sauce maker. Mary loved her garden and flowers. She was fiercely independent, and financially savvy. She prided herself on her Depression-era upbringing and always used every last resource that she had to run her household. She hated waste, and was very organized. Mary crocheted many newborn hats, holiday items and blankets for several area hospitals and was very generous with her talents.
Mary loved to visit with her family and friends, and wasn't one to mince words. She always said what was on her mind, and had the gift of gab! Mary lived a very full and long life. At the time of her death she was 103 years, 2 months and 12 days old. She was dearly loved and will be greatly missed by her family, friends and caretakers at the Heirloom Inn.
Mary is survived by her children: Jeanette Welch, Brenda (David) Salzetti, Billy Vigor, Frank Vigor, Richard (Linda) Vigor, 17 grandchildren, 34 great-grandchildren and eight great-great-grandchildren.
She was preceded in death by her parents, Frank and Rachele; husband, Bill Vigor; brothers Tony and Pete Angotti; daughter Clarice Paloni; and grandchildren Trisha Welch, Stephanie Welch and Tony Salzetti.
The family would like to extend their heartfelt thanks to the Heirloom Inn, and Rocky Mountain Hospice for her care.
A funeral Mass was celebrated January 31 at St. Anthony Catholic Church. Arrangements entrusted to Mitchell Funeral Home of Price. Friends may share memories of Mary at www.mitchellfuneralhome.net.