Mary Jane Day
Friday, Jul. 31, 2020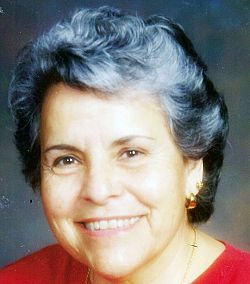 Courtesy photo
+ Enlarge
March 20, 1929 ~ July 15, 2020
Mary Jane Day and her identical twin sister Stella Marie Quarles were born in Santa Fe, New Mexico on March 20, 1929. Mary attended Catholic school at Our Lady of Lourdes, from kindergarten through 12th grade.
Mary married Robert Day in 1947 and moved to Sanger, California. Her first child, Barbara Ann, was born in 1948 and Deborah Sue, her second daughter, was born in 1951.
Mary was a loving mother and was actively involved in her daughters' lives as they were growing up. Mary's favorite hobby was cooking and baking. Her desserts were the absolute best, and our favorite was her caramel apple dumplings.
Mary was everyone's friend, knowing no strangers. She was always ready to lend a helping hand when any of her friends needed support. When her girls were grown, Mary was divorced. She began volunteering for the Autism Society and found a new passion in supporting children with special needs. Mary also worked for Great West Life in Denver, Colorado until her retirement in 1997. In 2000, Mary moved to Salt Lake City to be closer to her daughter Debbie and her son-in-law Dale Inkley.
Mary has seven grandchildren, 17 great-grandchildren and four great-great-grandchildren.
Mary Day was a lovely lady who will be greatly missed by all who knew her. A memorial Mass was celebrated July 28 at St. Vincent de Paul Catholic Church.