Mass recognizing contributions of people with disabilities 'inspiring,' Bishop Solis says
Friday, Oct. 12, 2018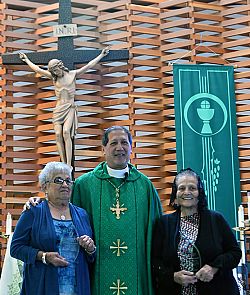 IC photo/Marie Mischel
Photo 1 of 2
WEST JORDAN — The annual Catholics Can Mass, which this year was held Oct. 7 at St. Joseph the Worker Catholic Church, recognized three women, each of whom is active in her parish despite a disability.
"Isn't it wonderful to recognize that everybody – all of us – has a gift given to us by God? And nothing, not even physical aliment or disability, should prevent us from doing our own share in proclaiming the Gospel, of sharing our faith, of serving our church and faith community," said Bishop Oscar A. Solis in his homily during the Mass.
"It is awesome" and inspiring that people with disabilities are willing to proclaim the Word of God when sometimes people who have full use of their physical and mental capabilities are timid or embarrassed to serve God and participate in their faith community, he added.
The Catholics Can Award is presented by the Diocese of Salt Lake City Commission for People With Disabilities. The award recognizes people with disabilities who are strong witnesses to the Catholic faith; as well as individuals, organizations and businesses that seek to include everyone, including people with disabilities, in active parish life. Since the award was implemented in the diocese, there have been 18 recipients, including the three recognized on Oct. 7.
At the Mass, Bishop Solis presented the Catholics Can Award to Mary Chidester of St. Anthony of Padua Parish and Julie Romero of St. Marguerite Parish. Pat Sproul of Christ the King Parish was unable to be present at the Mass; she will receive her award at her parish.
Chidester, who has several health issues, volunteers to work at fundraisers and appreciation dinners and other events at St. Anthony of Padua Parish. Her ministries also include serving as lector and extraordinary minister of Holy Communion.
Romero, who has a heart condition, is active in the funeral ministry at St. Marguerite Parish. She also gives generously of her time, driving people to various appointments, visiting the sick and offering homemade meals.
Sproul, who is hearing impaired, helped found Christ the King Parish's Ye Old Catholic Thrift Shoppe in 1997. Proceeds from the thrift store helped the parish pay off their new church's mortgage and now are being put toward construction of a parish hall. Sproul volunteered to serve without pay as the director of the store; it was only within the last two years that she agreed to accept a small salary. In addition to running the thrift store, Sproul has served on the parish council and finance committee, and also as president of the Catholic Women's Council.