Memorial bench installed as Eagle Scout project
Friday, Jul. 05, 2019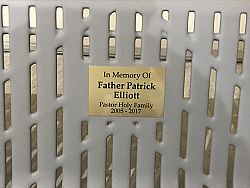 Courtesy photo/Tracy Ropelato
Photo 1 of 2
OGDEN — As part of his Eagle Scout project Austin Ropelato decided on a unique undertaking that was personally meaningful.
"The Eagle Scout project is an opportunity for a Boy Scout to demonstrate leadership to others while performing a project for the benefit of his community," the Eagle Scout Leadership Service Project Workbook states. It is the culmination of the scout's leadership training.
Austin, a member of Holy Family Parish in Ogden, is a member of the parish's Scout troop, of which his father is Scoutmaster. Tracy Ropelato joined the Church in 2006 after two years of RCIA and, like his son, was baptized at Holy Family.
"My son and wife had been brainstorming for a few months on ideas for our son's Eagle Scout project," Ropelato said. "Our son really wanted to pick a project that would be lasting and also very meaningful to others."
The project that his son and wife came up with was a memorial bench for Fr. Patrick Elliott, who was pastor when Holy Family Church was built. He served 12 years there as pastor, until his retirement in 2017. He died Nov. 29, 2018 in Salt Lake City, following an accidental fall near his residence.
The first step of the process for installing a memorial bench on the parish grounds was to obtain approval from Fr. Bill Wheaton, current pastor of Holy Family.
"Austin wanted to ask the parishioners for donations for his project. Father [Wheaton] allowed Austin to speak at the conclusion of three Masses to explain his project, as well as ask for donations," Ropelato said.
Austin created a poster board showing the amount he hoped to collect, as well as pictures of where he planned to install the bench.
"He planned to ask the [wider] community for support as well, but he gained enough donations from our generous parishioners to carry out the entire project," Ropelato said.
The project has significant meaning for the Ropelato family.
"Fr. Elliott meant so much to all three of us. He inspired me to join RCIA to learn more about the Church, which led to me becoming baptized," said Ropelato, adding that Austin loved Fr. Elliot.
"He thought he was funny, smart and brutally honest. He grew up with Fr. Elliott's sermons and jokes."
Austin said that he was proud and thankful for the opportunity to create the memorial.
"Fr. Elliott built our church and with this memorial on the grounds, we can honor all that he did," he said.
Ropelato said that he hopes that having this memorial bench at the church "will provide people with a solemn place to remember Fr. Elliott, and a beautiful spot to contemplate all that he spoke of."
The bench, which will sit in the garden area on the south side of the church, is getting its final details. So far a concrete pad has been poured and a path of stepping stones has been redone.
"We are working on a small retention wall and then will install the bench. We plan to complete the project soon," Ropelato said.