Mildred Hymel
Friday, Oct. 15, 2021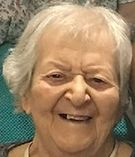 Courtesy photo
+ Enlarge
Mildred Hymel
June 2, 1919 ~ September 27, 2021
Mildred Hymel, age 102, passed away on Monday, September 27, 2021, in Murray. She was born on June 2, 1919, in Red Lodge, Montana to Charles and Eva Grubisich. She was married to John Hymel, Sr. She was a longtime parishioner of St. Vincent de Paul Parish.
She is survived by son John (Ruth) Hymel, Jr. of Herriman; daughter, Theresa Hymel of Colorado Springs, Colorado; Juanita Pennock (Gary), Pinedale, Wyoming; four grandchildren, Krystal Crnich, Melissa Igel, Brian Hymel and Jessica Tamayo; four step-grandchildren, Tyler Baxter, Bryce Baxter, Lindsey Baxter and Troy Baxter; 17 great-grandchildren, four great-great-grandchildren and several nieces and nephews.
She was preceded in death by husband John and sisters Catherine and Mary.
A funeral Mass was celebrated October 4 at St. Vincent de Paul Parish. Interment, Murray City Cemetery.
Mildred requested that in lieu of flowers, donate to any charitable organization that serves the poor and under privileged.