Missionary Sisters wrap up teaching in West Haven area
Friday, Apr. 29, 2022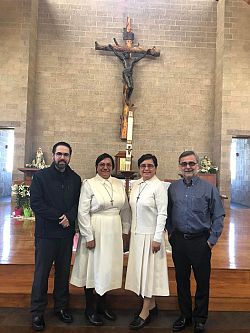 Courtesy photo
+ Enlarge
WEST HAVEN — For three weeks this month, two Missionary Daughters of Saint Pius X visited St. Mary Parish in West Haven to do missionary work among the Hispanic Catholic community in the area.
The Missionary Daughters' central house is in Ciudad Obregón, Sonora, Mexico. It was there that the sisters many years ago met Father Oscar Picos, now pastor of St. Mary Parish.
Sister Judith Cisneros Dozal, vicar general of the religious congregation, and Sister Guillermina Rodríguez Lara, the congregation's secretary, arrived on April 1 for their second visit to Utah.
Their previous visit was in 2020, "right before the pandemic started in full gear," Sr. Judith said.
This year, during their first week in Utah, "we worked on preparation for Holy Week," she said. This consisted of reflecting on "who we are, where are we going as Catholics, as humans and as a community."
Then, during Holy Week, the sisters helped the community prepare for the Triduum and explained the meaning of the three days from Holy Thursday through the evening of Easter Sunday. The last week of their visit, they worked on the Pascal kerygma, or proclamation.
"All that we lived during Holy Week – how can we base it in our faith, and how are we going to go on with our daily lives from now on," she said.
Evangelization is important because no matter where a person is, "we have always to reinforce the faith and the commitment. … Sometimes people hesitate even just to go to Mass … but our commitment as baptized is to go out and never forget our commitment as People of God," Sr. Judith said.
"For me, our vocation is the total commitment for life. … It is a radical commitment not just to the Church but with the People of God. Just seeing us dressed as nuns – people get surprised and amazed," Sr. Judith said.
Many women's religious orders now allow their members to dress in conventional clothing, but for Sr. Judith, wearing a habit is essential in her religious life.
"It is a manifestation of your commitment to God; the letting go of all the material things of this world," she said.
Men and women who may be discerning a vocation to the religious life often are scared of the possibility, Sr. Judith said, "but if their heart is telling them that that is their calling, just try it out. If they don't try it, they are never going to know for sure if that is what they were called to. … I have encountered lots of people who have told me, 'I wish I had been a nun or be part of a religious congregation,' but never made up their mind. … This vocation is a calling to total happiness, so I invite all who are considering a religious vocation to try it. Living the experience, it's worth it."