Muriel Cossette Hodgman
Friday, Jan. 18, 2019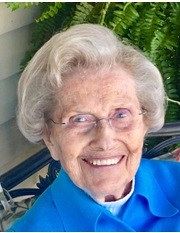 Courtesy photo
+ Enlarge
September 1, 1927 ~ December 24, 2018
Mary Muriel (Cossette) Hodgman passed away peacefully on Christmas Eve, December 24, 2018 surrounded by family. Muriel was born September 1, 1927 in Dracut, Massachusetts to Joseph Laurent Poirier Cossette and Marie Rosalie Labrie. She was educated and refined in local parochial schools and graduated from Soeurs de l'Assomption de la Sainte Vierge girls' boarding school and convent, class of 1945, in Nicolet, Quebec, Canada.
Muriel became a novitiate at the convent, but prior to taking her vows she met and fell in love with Kenneth Clark Hodgman. They were married on Valentine's Day, 1949 in St. Joseph Church, Ogden,; a modern-day romance of soul mates.
Ken and Muriel loved camping, fishing, hunting and the Rocky Mountains. They were always working together on home improvements and automobile repair. Within a year and a half, the couple invited a cherished daughter, Toni, into their family of love.
During the Korean War Muriel worked in the motor pool at Hill Air Force Base, repairing and maintaining vehicles. When the war subsided, Muriel went back to her ambition to be at home and the couple added a son, John, to the family.
Muriel was selfless in her consistent giving to family, neighbors and friends, always driven to improve, had a thirst for knowledge, was a quick study, always accepting of all individuals, and desired to instill the same in all her family members. Over the years, Muriel was involved with public schools, PTA president, JCs, Girl Scouts, CCD of St. Mary's, the IRS, the Elks Club and a member of St. Henry's. Above all, her real passion always remained with her husband and children.
Preceded in death by her husband, Kenneth (2011), and eight of her ten siblings, Muriel is survived by her daughter, Muriel Antoinette (Toni) Hodgman and her two daughters; her son, John C Hodgman and wife, Victoria Joyce Kelly and their five children; and 15 grandchildren. Muriel is also survived by two of her siblings, Lenny Cossette (Carmen) of Massachusetts, and Vicki Cossette Prasad (Mohan) of Florida, and sister-in-law Nettie Liotta Hodgman of California, as well as numerous loving nieces and nephews.
A funeral Mass was celebrated on December 28 at St. Joseph Catholic Church in Ogden. Interment at Lindquist's Washington Heights Memorial Park.
The family wishes to acknowledge the wonderful and attentive long-term care of Dr. Lynn Beard and his fine medical staff in Brigham City.
In lieu of flowers, donations may be made to Hearts of Hospice Care, who were especially loving and compassionate as Muriel transitioned her mortal life.