New CEO for Holy Cross Ministries
Friday, Aug. 03, 2018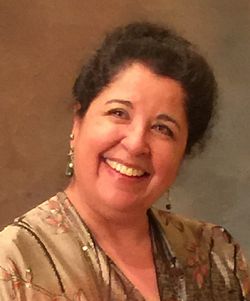 + Enlarge
SALT LAKE CITY — Holy Cross Ministries' new CEO Mary Emmie Gardner brings with her a wealth of professional experience along with a long history with the Holy Cross organization.
Gardner, who is from Chicago originally, came to Utah in 1982 as part of the Holy Cross Associates post-graduate service program, which she called "like a Peace Corps placement with a spiritual twist." In that program she served as a refugee resettlement worker with Catholic Community Services of Utah. After her assignment she stayed on and worked for CCS for several years before continuing her education in social work.
A graduate of Saint Mary's College in Notre Dame, Ind. (a Holy Cross Sisters-sponsored ministry), Gardner is a licensed clinical social worker who holds a bachelor's degree in psychology from St. Mary's and a master's of social work and a graduate certificate in conflict resolution from the University of Utah.
"We are overjoyed to have found a leader with such deep ties to the mission of Holy Cross Ministries and with such passion for continuing and expanding the positive impact that the Sisters of the Holy Cross have had on the Utah community for over 140 years," Board of Trustees Chairman Raymond Dardano said.
Gardner comes to Holy Cross Ministries from Intermountain Healthcare; after 30 years with the company she retired in November as systems director of palliative care. Prior to that, she oversaw the company's Integrated Care Management Department's community-based initiatives. She also worked at Primary Children's Hospital in clinical counseling, behavioral health programs and later as the administrator of the cancer and transplant center.
Gardner said she wasn't looking to come out of retirement but "when the opportunity came up and the sisters asked, it was hard to say no. … I feel blessed and honored to serve."
On July 25, her first day as CEO of Holy Cross Ministries, she said, "I am just awestruck with the amount of compassion and passion of the teams here. I am so excited to be meeting these amazing people who have committed to what they're doing and look forward to the great work we get to do."
"They are just an incredibly welcoming and amazing group of people," she added. "It is fun to meet them and to learn the scope of the work they are doing here."
Gardner said she plans to spend some time learning about the program and gaining an understanding of the clients' needs before moving forward with goal-setting.
Msgr. J. Terrence Fitzgerald, vicar general emeritus and a member of the Holy Cross Ministries Board and of the search committee for a new executive director, said he was pleased with the selection of Gardner from among "a number of excellent candidates. ... Her leadership skills, experience, ability to empower others for ministry and joyful personality are qualities that will enhance the vibrant work at Holy Cross Ministries."
Gardner and her husband Arnie, an immigration attorney, are members of St. Olaf Parish in Bountiful. They have two grown daughters, Jamie and Jenny, who live in the Northwest, whom she calls her "best life's work."
"They are amazing women," she said.
Holy Cross Ministries serves the low-income community in Park City by providing a legal immigration program, Hispanic education outreach, a school readiness program at three schools, an after-school program and a summer camp program. At the corporate office in Salt Lake they provide legal services for victims of domestic abuse.