New furnishings incorporate Catholic symbols
Friday, Apr. 06, 2018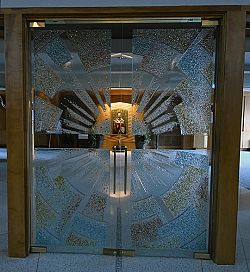 IC photo/Marie Mischel
Photo 1 of 2
SALT LAKE CITY — The refurbished interior of St. Ambrose Catholic Church includes many new features, three of which stand out as representative of the renewal.
The first can be seen as one enters the gathering space. The door into the nave was created with fused glass in a radiating pattern that takes its inspiration from circular elements of the stained glass window depicting the Holy Family that already had its home in the church, said Peggy McDonough-Jan, head of the architectural team in charge of the remodel.
Immediately inside the door is the baptismal font, composed of a blue stacked glass bowl emerging from an elliptical white marble font. The old baptismal font was cracked beyond repair, and with the remodel the font was moved to the entrance of the nave to create its own space and to allow more participants to gather around the baptistery.
The font's design represents the cosmos, the earth and the Holy Spirit, said Fr. Andrezj Skrzypiec, pastor.
"When entering the church, it helps align your sight to the center," McDonough said. "It reinforces your line of sight to the altar and to the crucifix."
The altar itself was created with a classically inspired medieval design. A water jet-cut medallion inserted into its tripartheid-designed marble base is drawn from the alpha and omega symbols of the Book of Revelations. The altar is made of a simple slab of marble that was chosen by Tom Tosti of Tekton Woodworks, who visited the stone yard with Fr. Skrzypiec to find the perfect piece.
Another image of the alpha and omega was water jet cut into the primary landing step of the sanctuary at the same location as the former communion gate. This work was done by Jake Bell of Finn Wall Terrazzo.
In addition to being visually pleasing, the changes to the sanctuary have created a better space for movement of ministers at the altar during Mass, Fr. Skrzypiec said.