New parochial vicar at St. Mary of the Assumption
Friday, Sep. 07, 2018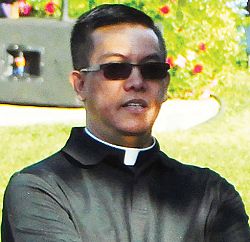 Intermountain Catholic
+ Enlarge
PARK CITY — A few weeks ago Father Ariel F. Durian,C.S., the new parochial vicar of Saint Mary of the Assumption Parish in Park City, arrived in Utah for the first time in his life.
A member of the Missionaries of St. Charles Scalabrinians of the Province of Saint John the Baptist, Fr. Durian was granted a year of exclaustration ad experimentum to be a diocesan priest of the Catholic Diocese of Salt Lake City.
"I applied for a sabbatical year and when the year is over I can apply for another year. … After the third year I will have to decide if I want to go back to my religious community or continue serving here in the Diocese of Salt Lake City," said Fr. Durian, who is originally from the Philippines.
Last year his discernment to start a sabbatical year began. He considered two dioceses in which he wanted to serve. One of his options was the Diocese of Kansas City, but last November he attended the National Association of Filipino Priests-USA and that gave him the course for his service.
The NAFP was begun in 2008 by the Most Rev. Oscar A. Solis, who was then Auxiliary Bishop of Los Angeles and is now Bishop of Salt Lake City.
"One of the priests told me, 'Brother, why don't you ask Bishop Solis?,' so I took the opportunity; on the last evening of the assembly … I approached him about the possibility," Fr. Durian said.
Afterward, he sent an email request to serve in Diocese of the Salt Lake City to the vicar general, Monsignor Colin F. Bircumshaw, and was accepted.
For members of religious orders, there are two kinds of sabbaticals. They can take a year of absence from their religious community and not practice their ministry. The second kind of sabbatical is when the religious applies to be out of their religious order and they offer to serve in a diocese that welcomes them to be part of the local clerical community. Fr. Durian, who has been a priest for 13 years, has chosen the second type of sabbatical.
Fr. Durian was ordained on June 17, 2005 for the Scalabrinian missionaries. For one year he served in Quezon City, the Philippines. He then moved to California, where he served six years in Sun Valley, near Los Angeles. Since 2012 he has been pastor of Holy Rosary Church in Kansas City, Mo.
Fr. Durian's vocation to the religious life started at a very young age.
"As soon as I was able I became an altar server," he said. "You kind of want just to become a priest … but as the time passed that longing of becoming a priest became a bit aside."
In high school, like all teenagers, he had many opportunities to choose from, but "when the call [to religious life] gets there, it defies everything, whether you are working, studying," he said. "When it comes, it comes."
His religious journey has been very enriching, he said.
"They say the life of a priest is a lonely life, but it is not. It is filled with adventures as you meet people of different ethnic backgrounds, cultures, languages," said Fr. Durian, who speaks Tagalog. English and Spanish. "I have learned a lot from the people that I have served. These three weeks in Park City has been learning many new things."
With his most recent assignment he will be serving at Saint Mary of the Assumption Parish in Park City and Saint Lawrence Mission in Heber.
"On my part I want to continue to grow in the ministry. I want to continue discerning if I want to embrace a diocese as a way of life," he said about this future plans.
To the communities of Park City, Heber and Utah, Fr. Durian wants them to know he is here to serve. "I always am at the service of the community," he said. "Let's grow together. Let's work together."