New Pastor Assignments
Friday, Aug. 04, 2017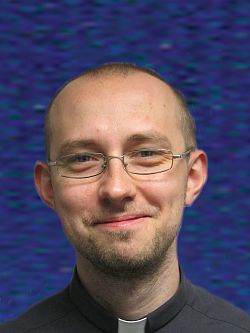 + Enlarge
Fr. Adrian Komar is one of four priests in the Diocese of Salt Lake City who received assignments this year as pastors or administrators to a new parish; these assignments took effect Aug. 1. The other three priests were profiled in the July 21 Intermountain Catholic.
Fr. Adrian Komar
Assigned to Christ the King Parish
Fr. Adrian Komar was ordained a priest on June 10, 2006 for the Diocese of Siedlce, Poland. He served as vicar in various locations in the Diocese of Siedlce before coming to Utah on May 5, 2013. He was in residence at St. Ambrose Parish, then served as parochial vicar at our Lady of Lourdes (Magna), St. Francis of Assisi and St. John the Baptist parishes, and most recently at St. George Parish.
What would you like your new parishioners to know about you?
I am originally from Poland. I am 36 and have been a priest for 11 years. I came to the United States four years ago, and it has been a pleasure and honor working with the people here. I will definitely do everything I can to help everyone I am sent to. I am looking forward to meeting the people of Cedar City.
What are you looking forward to most about your new assignment?
I have many fears and hopes with my new assignment. I know I cannot do much without my parishioners' help. I know that together we can do a lot, making the parish a place of true Christian love. I hope my English will not scare people from the church and that my accent will be understood. I also hope that the Hispanic community will give me some time to learn Spanish.
As a priest, what has been your biggest challenge?
Learning the language was one of the greatest challenges since I came here. On the other side, that was such a wonderful experience when I could start working here. I was working for six years in Poland and had to stop when I came here because I wasn't able to talk to anyone.
As a priest, what has been your most satisfying experience
The moment I started understanding people was really exciting.