New pastor assignments/Fr. Tai Trong Nguyen
Friday, Jul. 20, 2018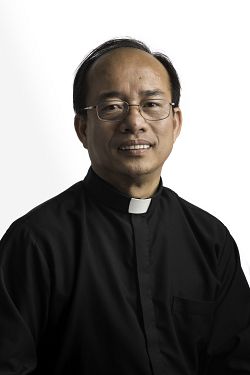 Intermountain Catholic
+ Enlarge
Several parishes and missions in the Diocese of Salt Lake City will receive new pastors or administrators on Aug. 1. Here is a brief introduction to those who will take the assignments.
Father Tai Trong Nguyen
Father Tai Trong Nguyen was born in Saigon City, Vietnam and attended high school in Nha Trang City. He attended college in Manila, the Philippines, before entering Mt. Angel Seminary in Oregon, where he earned a Master of Divinity degree as well as a master's in theology. He was ordained a priest on May 29, 2010 by the Most Rev. John C. Wester. His first priestly assignment was as parochial vicar of St. George Parish. In 2015 he was assigned as pastor of St. James the Greater Parish in Vernal. On Aug. 1 he will become pastor of Our Lady of Perpetual Help in Kearns.
What would you like your new parishioners to know about you?
Mostly the Vietnamese parishioners at my new parish, Our Lady of Perpetual Help, have known me because I was there for two years when I first came to Utah and studied at Mt. Angel Seminary. My first "Thanksgiving Mass" after my ordination was celebrated at Our Lady of Perpetual Help Catholic Church. I sometimes celebrate Mass there, as well.
What are you looking forward to most about your new assignment?
As a priest and a pastor I continue to do the mission of Christ on earth. To love and to serve God means that I will love and to serve my new parishioners with all my heart and zealous deeds. As Jesus said, "The Son of Man did not come to be served but to serve and to give his life as a ransom for many." I also will continue to treasure and strengthen our strong faith according to our Vietnamese tradition, with 117 Vietnamese martyrs who sacrificed their lives for the love of Christ and what they believed.
As a priest, what has been your biggest challenge?
My biggest challenge is to bring the Gospel's message of love, reconciliation, unity and solidarity into the parishioners' life. And to strengthen the faith of young generations and inspire their calls of vocation to priesthood, religious sisters and brothers.
As a priest, what has been your most satisfying experience?
As a priest, it is not applicable for me to have most satisfying experience. But I can say that after eight years of priesthood, I have heard from a lot of people, including those who are not Catholic, who told me that "Parishioners love you" or "Your parishioners love you." This is my happiness as a priest.