Northern Utahns hike to help pro-life clinic
Friday, Jun. 14, 2019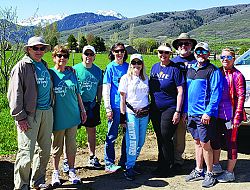 Courtesy photo/PMC
+ Enlarge
ROY — Members of several northern Utah parishes recently showed their support for the Journey Pregnancy Medical Clinic in Roy by participating in Steps for Life: A Shelter in the Storm, a sponsored walk to raise funds for the clinic.
The PMC provides free early pregnancy diagnosis and consultation services for women in northern Utah who are experiencing an unexpected pregnancy.
On May 11, parishioners from St. James the Just, St. Joseph, Holy Family, St. Mary and the Christ, Prince of Peace Catholic community at Hill Air Force Base joined the Steps For Life walk at the George Wahlen Park in Roy.
One of the walkers was Kim Vigil, a St. Mary parishioner. The event had special meaning for Vigil, whose own mother became pregnant with her unexpectedly as an 18-year-old college freshman. With her family's support, Vigil's mother was able to keep and raise her, something for which she is very grateful.
However, she realizes not all women are lucky enough to have that support, and that's where places like PMC can fill a real need, she said.
"It's giving women information that this is a baby. It is life; it is precious," Vigil said. "They come at it from a Christian viewpoint but they meet the women where they're at. If they're open to hear the word of God, great, but it's not something they push."
Vigil is an ambassador for PMC in her parish.
Christine Gonzales, a member of St. Joseph Parish, participated in the walk with her 8-year old grandson Ryder Montes. Gonzales is a member of the parish's Respect For Life committee and a PMC ambassador.
"The committee is all about having respect for life and acknowledging that life is there from conception; PMC believes that also," Gonzales said. "When young women come to them and don't know what to do, PMC can help them see that. I am all for helping in whatever way I can to help someone choose life for their baby."
In Eden, members from St. Florence Mission hiked a mountain trail for their walk. Students from Weber State University's Newman Center also gathered with Father Charles Cummins, chaplain, in support of the PMC.
"We so appreciate the parishes because they have been so active in supporting us and helping to spread the word about our services," PMC Executive Director Tammy Leake said.
These local Catholics joined representatives from 36 Protestant churches who also participated in the walk. The event garnered $56,000 in pledges.
Leake said 62 churches of various denominations in northern Utah help support the clinic by letting their local communities know about its services.
The PMC is completely privately-funded. The walk is just one of two annual fundraisers for the clinic. In October, the clinic holds a Banquet For Life.