Nun's embroidery to be auctioned at fair
Friday, Sep. 08, 2017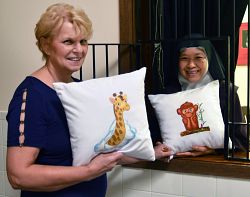 IC photo/Marie Mischel
Photo 1 of 2
HOLLADAY — A white-bearded Noah stands on the ark under a rainbow, smiling at the colorful creatures that have disembarked. A pair of dolphins jump with joy, two tigers stroll down a hill, and a dog strums a guitar while serenading a bird in a tree.
This scene, depicted on a wall hanging that will be auctioned off during the Sept. 22 Carmelite Fair, was created by Sister Madeleine Nguyen at the urging of Mary Solak, chairperson of the fair's silent auction.
"We had a lot of fun working on it," said Solak, explaining how she and Sr. Madeleine chose the different animals to be depicted on the wall hanging.
Sr. Madeleine has an artistic eye and the imagination needed to create the scene, which includes everything from tiny crayfish to an elephant holding an umbrella, and "the ability to blend the colors … in a way that I don't think most people can do," Solak said.
Although Sr. Madeleine embroidered the work, she is quick to give credit to others for their help. "I couldn't do it by myself," she said, adding that many people helped her with the design and finding images of animals to depict.
When Solak first asked her to design the wall hanging, rather than make it from a pattern, Sr. Magdalene had difficulty imagining the scene.
"This one took me a lot of sacrifice and prayer. … I cried, 'God, help me!'" she said, describing how she prayed about the project. Once she realized that the rainbow "is a sign of God's covenant and of his love," she got the idea to depict the animals as living together in love and peace and joy, she said.
This is the second piece that Sr. Madeleine, who learned to embroider while growing up in Vietnam, has stitched for the annual fair. A few years ago she completed a counted cross-stitch project from a pattern. However, the Noah's ark is the largest piece she has done, and also the one she enjoyed the most, because she didn't have to follow a pattern, she said.
While working on the wall hanging, she prayed that all people in the world will live in peace and love, Sr. Madeleine said, adding that she hopes it will be a blessing to whomever purchases it.
Another unique live auction item this year will be a dinner for 10 people cooked and served by firefighters at Unified Fire Authority Station 104 in Holladay.
Carol Ernst, chairperson of the Carmelite Fair's live auction committee, came up with the idea. She asked Chris Bertram, former deputy chief of police services for the Holladay precinct of the Unified Police Department, to help arrange the dinner.
Bertram contacted the firefighters, and "they thought it was a great idea," he said. "The firemen up in that community … are just great people."
The dinner will be served at the firehouse, and a tour of the station will be included in the dinner, Bertram said. Because the firefighters are excellent cooks who enjoy showcasing their skills, and their camaraderie extends to their guests, the dinner will be a memorable experience, Bertram said.
Many other items have been donated for the live auction, including a beverage cart and the services of a bartender for a party, a dinner for 12 with Bishop Oscar A. Solis at the Vietnamese Bistro, and a refurbished buffet table that had belonged to Carmelite Sister Mary Joseph Whipperman, Ernst said. In addition, there are numerous sports packages and entertainment for venues such as local theaters.
Proceeds from the annual fair provide much of the monastery's operating budget.
WHAT: Carmelite Fair
WHEN: Sunday, Sept. 17, 11 a.m.-5 p.m.
WHERE: Carmel of the Immaculate Heart of Mary, 5714 Holladay Blvd., Holladay
The day starts with a 5K fun run/walk. To register, contact Bob Schovaers at 801-943-3569.
Also, a golf tournament to benefi t the nuns will be held Saturday, Sept. 23 at the Homestead Resort golf course. To register, call Joe Orifici, 801-414-8911.