Office of Faith Formation launches yearlong catechist training program in St. George
Friday, Jun. 28, 2019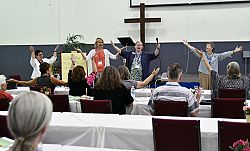 IC photo/Marie Mischel
+ Enlarge
ST. GEORGE — A 10-month training of catechists from the St. George and Christ the King parishes, using materials that conform to the requirements of the U.S. Conference of Catholic Bishops, began June 15 at St. George Parish. The program is based on the National Directory for Catechesis for Adults.
The training was presented by Dr. Margaret Alarilla, a consultant from the Congar Institute, and four lay ecclesial ministers who have been certified by the Diocese of Salt Lake City: Juliana Boerio-Goates of St. Francis of Assisi Parish; Deana Froerer of St. Florence Mission; Lorena Needham, administrator for liturgy and music at the Cathedral of the Madeleine; and Denise Richards of Christ the King Parish.
Susan Northway, director of the diocesan Office of Faith Formation, brought greetings from Bishop Oscar A. Solis. Fr. Martin Picos, pastor, greeted those present and said, "I hope you are going to be open to this little journey. God is calling you. It's not about you, per se, it's about God and you working together, being together."
The four-hour session covered theological vocabulary such as divine revelation, Tradition, the Creed and Christology. The catechists were given a copy of "The Catechist's Toolbox" by Joe Paprocki; they also will use the Adult Catechism of the Catholic Church as a reference. In addition, the presenters gave tips on finding resources for the classroom, and ways to connect with students. For example, Alarilla suggested that the teachers ask the students to tell their faith stories, and recommended that rather than always insisting the students put away their phones, that the students use apps to find Scripture references and other material applicable to catechism lessons.
"We're going to help you build that confidence, give you some tools to where you can go with confidence into the classroom and show the way," Alarilla said.
Among those who attended the training were St. George parishioners Adam and Diane Milecki, who helped teach Theology of the Body and now are teaching Confirmation classes. Both said they appreciated the presenters and the information they gave, as well as the experiences and thoughts shared by their classmates.
"There are some very, very smart people in this room, and boy, I learned from them, and I'm humbled by it," Diane Milecki said.
Donna Rish, a Christ the King parishioner who does prison ministry, said much of what was presented "initiates some different material" for her to use in the ministry she has shared with her husband for the past six years, such as asking the inmates who Christ is to them.
The catechists will meet about once a month for a four-hour training conducted by the lay ecclesial ministers. The catechists expect to be certified in April.
Northway said other parishes may request similar training through her office. For information, contact her at 801-328-8641 or susan.northway@dioslc.org.