Our Lady of Lourdes Middle School Academy dedicated at Judge Memorial Catholic High School
Friday, Sep. 17, 2021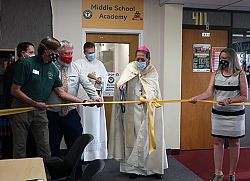 IC photo/Linda Petersen
+ Enlarge
SALT LAKE CITY – Students, parents, diocesan officials and faculty members of Judge Memorial Catholic High School and Our Lady of Lourdes Catholic School joined Bishop Oscar A. Solis Sept. 13 for a dedication and blessing of the new Our Lady of Lourdes Middle School Academy.
The academy offers students an enhanced curriculum taught by Judge faculty members as well as instruction in core subjects from Our Lady of Lourdes teachers. Students also can participate in electives such as theater performance, dance, drawing and design, choral and instrumental music previously unavailable to them, and athletics.
"This program that they have envisioned is a wonderful sign of development and progress in our Catholic institution," Bishop Solis said prior to dedicating and then cutting the ribbon on the new academy. "This dream has become a reality through the hard efforts and wonderful sacrifices of so many people."
The traditional Our Lady of Lourdes campus is adjacent to the high school campus. Students enrolled in the academy will attend class in rooms located on the high school's fourth floor, which recently was renovated. The academy has its own entrance and stairwell. Students eat lunch in the Judge cafeteria in a separate space supervised by Our Lady of Lourdes faculty and staff.
After Bishop Solis dedicated and then blessed the academy, the principals of the two schools expressed their thanks for all those who made this new initiative a reality.
"We're so grateful for the support that surrounds all of us," JMCHS Principal Patrick Lambert said. "This could not have been done without the herculean effort of so many people. We're grateful for Bishop Solis' leadership and giving us that direction. We hope that we are continuing to meet that call and will be able to provide an incredible education for our middle-school students, and we're so grateful for the partnership we've had for so many years with Our Lady of Lourdes, and we're looking to continue to strengthen that bond and strengthen the bonds throughout all Catholic schools throughout the diocese."
"This inaugural year, we're so excited for it; we're excited for everything it will bring, everything it will teach us, how we will make it better and grow through the next years," OLOL Principal Tina Bergquist said. "This has given us an opportunity for the students that we wouldn't have had otherwise."
Seventh-grader Rourke Jensen, who signed up for the academy to participate in theater classes, has been enjoying his first month in the new program. Although Rourke will have to wait until the spring for the theater/fine arts class, he has had fun in dance and other classes, he said. He is particularly pleased to have a locker to store his books and school supplies rather than having to carry them around each day, he said.
The academy, which has 48 enrolled pupils, serves seventh and eighth-grade students; school officials hope to add sixth grade next year.
According to the press release for the event, the opening of the academy represents the most significant Catholic education initiative in Utah over the past 20 years by the Diocese of Salt Lake City. Diocesan and Catholic Schools officials hope the academy is the first step in delivering a prekindergarten through 12th grade campus in downtown Salt Lake City.