Parishes celebrate retiring priests/ Msgr. Robert Bussen
Friday, Aug. 04, 2017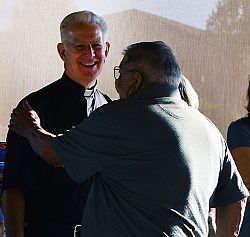 IC photo/Marie Mischel
+ Enlarge
CEDAR CITY — The pavilion at Christ the King Parish was crowded with people July 21. They spilled onto the lawn where children ran and played games during the picnic celebrating the retirement of Monsignor Robert Bussen, pastor, and the departure of Father Richard Sherman, parochial vicar, who has been assigned as pastor of Saint John the Baptist Parish.
"I don't want Father Bob to leave. We're going to miss him. We enjoy his company," said Carol LaBracque, who with friends Sugar McDonald and Marie Mischo said they love many things about Msgr. Bussen, including that he is always smiling, remembers people's name and that he gives good homilies.
Members of the parish's Hispanic community also said they would miss the priest.
"Fr. Bob is the best," said Angel Perez, who said he, his family, and several friends all have been touched by the priest's ministry.
"I'm very sad that he is leaving," said Luz Garcia. "He is the best father for the young people and the whole community."
Deacon Denny Davies, who met Msgr. Bussen in the 1980s, said he has been thrilled to have been able to work with the priest for the past six years because "he's such a shepherd's shepherd … and a caring individual."
One of the things Deacon Davies remembers most is that the weather prevented the parish from celebrating the Easter vigil outside ever since the new church was built in 2003 , but in the past six years, since Msgr. Bussen arrived, "every single year we were able to celebrate outside. … That has to be the touch of something very special," the deacon said.
Looking back at his 36 years of ministry in the diocese, Msgr. Bussen said he what he remembers most are the three parishes where he served as pastor. St. Thomas Aquinas Parish in Logan "taught me everything I needed to know about how to be a pastor," he said, while the Saint Mary of the Assumption community in Park City taught him that a church was not just a building but also the people of God, and Christ the King parishioners in Cedar City "taught me how to love."
Msgr. Bussen has made only a few plans for retirement. This month he will go to watch the total eclipse, he said, and next month he will visit Croatia with some former parishioners who are natives of the country. In October he will visit friends in San Francisco, and in November he has scheduled a driving trip to St. Louis, then in December he will return to ski in Park City, where he will live.
Other than that, he purposely hasn't made many plans, he said.
"I don't know what the future holds, and in a way I really don't care. I'm quite confident that it will be an adventure with God," he said.