Parishes celebrate retiring priests/Msgr. Joseph M. Mayo
Friday, Aug. 04, 2017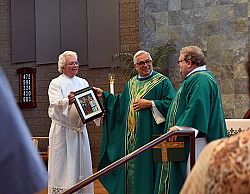 IC photo/Marie Mischel
+ Enlarge
DRAPER — Msgr. Joseph M. Mayo ended the celebration of one of his last Masses before retirement by telling parishioners at Saint John the Baptist Catholic Church, "I'll see you soon."
The parish, which is located on the Skaggs Catholic Center and helps minister to the campus' three schools, is one of many throughout the diocese where Msgr. Mayo has served during his 44 years as a diocesan priest.
"It's just so alive and active. … It's a very dynamic place to finish my years, surrounded by all these young people," said Msgr. Mayo, whose retirement plans include restarting to exercise regularly and serving on different diocesan commissions.
"The work just finds you," he said, adding that he also hopes to help Bishop Oscar A. Solis, and "I have my parents to take care of, which I enjoy."
Throughout his ministry, "I've always had great parishes," he said, and he has appreciated the support of his parishioners. People don't forget how they were helped 30 years ago, he said; among those who attended the retirement reception after the July 29 Mass had been a parishioner at St. Francis Xavier when Msgr. Mayo was pastor there from 1987 to 1999.
Fellow clergy at St. John the Baptist Parish said they would miss Msgr. Mayo.
"He's a good administrator; he has a good grasp on what needs to be done" and is available to parishioners throughout the day and into the evening, said Dominican Father Denis Reilly, the parochial vicar. The two priests often joked back and forth, and "mostly I'm just going to miss the fun that we have," Fr. Denis said.
Msgr. Mayo "has been a good influence in building up the parish community" and has enhanced liturgy with his "wonderful singing voice," said Msgr. Terence Moore, pastor emeritus. "He'll be very much missed here."
Parishioners, too, will miss Msgr. Mayo.
"He's made my faith stronger, and he's made us keep wanting to come back, and keeps us as a family in his prayers," Catie Scorzato said. "He's a strength in our life."
When Msgr. Mayo celebrated the funeral for Kathleen Keller's mother, "He blessed our family … with a vision of Christ and a vision of heaven. We cherish it," she said.
Augie Cervantes, another parishioner, said he appreciates that Msgr. Mayo "comes across as a true priest, and follows the Magisterium. … He evokes friendliness and caring for people."