Parishes donate to help replace vandalized statue at St. Therese of the Child Jesus Catholic Church in Midvale
Friday, Oct. 09, 2020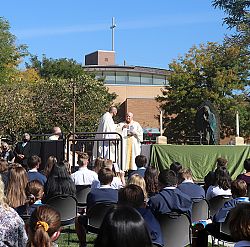 Courtesy photo
+ Enlarge
DRAPER – Early on the morning of Sept. 14, Cecilia Lopez arrived at St. Therese of the Child Jesus Catholic Church to find a distressing sight: The large white statue of the parish's patron saint, which had stood in the front of the church, had been toppled and lay shattered on the ground, with pieces scattered about and the head resting several feet from the body.
"This makes us feel very unsafe. … This is our home," said Lopez, the parish's religious education director, in a statement from the parish.
The vandalism was reported to the police, but no suspects have been apprehended.
When news of the smashed statue reached Fr. Stephen Tilley, pastor of St. John the Baptist Parish in Draper, he made a pulpit plea for donations to a special collection to help replace or repair the statue.
"Having your patron saint vandalized is just a heart-breaking experience," said Jennifer Kane, St. John the Baptist's office manager. "Fr. Tilley heard about the issue and decided that that was something that we could help with as a community. … A call for action was put into place, and our parishioners always respond when there is a need."
Penny by penny, dollar by dollar, donations came in. On Oct. 2, during their annual Mass on the Grass, St. John the Baptist Parish presented a check for more than $4,000 to Deacon Stan Stott, St. Therese's RCIA coordinator.
"With all the uncertainty and the constant bad news, we wanted to provide some good news, and our parishioners love to see that," Kane said.
In an online thank you message, Fr. Jose Barrera, administrator of St. Therese, told the St. John the Baptist community, "We are very grateful for your generosity. God will reward you."
He also asked for St. Therese to intercede for the entire community of Saint John the Baptist, including the pastor, teachers and students of the Skaggs Catholic Center, which houses St. John the Baptist Parish and schools as well as Juan Diego Catholic High School.
The students at the schools had another collection for the statue, which ended Oct. 2. The donation amount was not available at press time.
St. Mary of the Assumption Parish also donated $1,000 to St. Therese Parish in response to the vandalism.
A Facebook post on the Midvale parish's page reads, "We are extremely humbled by the outpouring of support from the local parishes and by so many generous people who have supported us during this difficult time."