Parishes working to resume religious ed classes
Friday, Sep. 04, 2020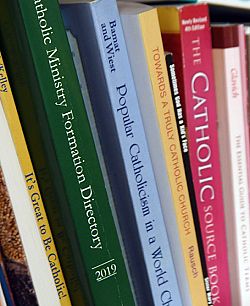 Intermountain Catholic
+ Enlarge
SALT LAKE CITY – At the recommendation of Bishop Oscar A. Solis, parishes across the diocese are preparing to resume religious education and faith formation as pandemic conditions allow. Bishop Solis urged the parishes to continue to follow strict health protocols while doing so.
"Let us continue to exercise charity and express our love and respect for one another, especially the elderly and vulnerable, by helping prevent the spread of the infectious and deadly coronavirus," he wrote in an Aug. 14 memo to clergy and religious staff.
The transition is a difficult one for many parishes, most of which shut down all but their most essential of those programs during the first months of the pandemic, a late-June survey done by the Office of Faith Formation shows. Not all parishes and ministries responded to the survey; some of the surveys only had partial responses.
According to the survey responses, 84 percent of parishes are providing opportunities to help children prepare for First Communion. Fourteen parishes reported that their youth had received the Sacrament of Confirmation at the time of the survey. For other programs, about half of the parishes provided materials and textbooks to parents so that they could teach their children at home. Four parishes used the online videconferencing application Zoom to provide instruction to children. Most parishes did not offer faith formation opportunities for young adults. All but two parishes cancelled retreat and youth days during the shutdown. Three parishes offered campus ministry faith formation.
However, some parishes continued their catechist formation by Zoom. Several were able to complete training provided online by Nelda Troyer, a Holy Family Parish lay ecclesial minister. Some parishes also are preparing to offer religious education classes by Zoom.
As the parishes work to find ways to offer religious education and faith formation safely, "one of the stumbling blocks is lack of communication between parents and the parish," said Susan Northway, director of the diocese's Office of Faith Formation.
Some parishes don't have all the religious education information posted on their websites, and with many of their staff now working from home, it may be difficult for parents to reach those responsible for their parish's religious education programs, said Northway, who encouraged parents to be patient but persistent as they try to connect with their parish.
"By canon law the parents are the first teachers of the children in religious education," she said. "What they can do is look online or call me for help. I'll be happy to give them individual help on those kinds of things."
Parents who have access to technology may find the websites of the four diocese-approved Catholic publishers RCL Benziger, Sadlier, Loyola Press and Our Sunday Visitor helpful. All of these publishers offer materials in both English and Spanish.
"They have really stepped up to provide all kinds of parent support," Northway said.
However, Northway cautions parents and others to be careful during online searches, because there are many websites that, while appearing to serve Catholic audiences, don't have a canonical basis or Church approval.
Northway's department is working to provide additional training to parish directors of religious education through the deaneries. She also hopes to work with the Congar Institute to provide online training.
"This is not going to last forever, but we need to step up [now] and help each other in the parishes and missions and provide what the children need," she said.
Northway encourages parents who do not have a computer, or who need help in finding resources, to contact her at 801-328-864.