Participate in the census to benefit the community
Friday, Mar. 27, 2020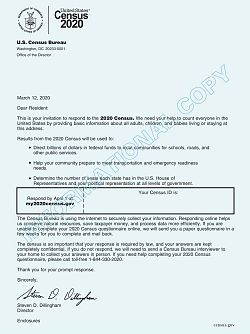 Intermountain Catholic
+ Enlarge
SALT LAKE CITY — The 2020 U.S. Census wants to count you.
The government not only wants to count you, it wants to count every person living in the United States and the five U.S. territories.
The government not only wants to count everyone, it requires everyone to respond. The U.S. Constitution (Article 1 Section 2) mandates the census, which is undertaken every 10 years by the U.S. Census Bureau, a nonpartisan government agency. The data gathered from the census helps determine how federal funding is distributed for critical services such as school lunches and grants for teachers, highway construction and grants for public transportation systems, hospitals and fire departments.
"Utah has an estimated 3.21 million people. The amount of federal funding Utah receives for health care, education and transportation is dependent on census participation. In recent years, that funding accounted for 28 percent of the state budget," census2020.utah.gov states.
On the political side, the population count determines the number of seats in the U.S. House of Representatives each state will have, and the data is used to draw congressional and state legislative districts. "Utah's representation down to the local level is dependent on our population count through the census," census2020.utah.gov states.
The U.S. Conference of Catholic Bishops urges Catholics to do their civic duty and participate in the census. "Census data helps direct more than $800 billion annually to key programs designed to advance the common good, strengthen families and reduce poverty," Bishop Frank Dewane of Venice, Fla., then-chairman of the USCCB Committee on Domestic Justice and Human Development, said last year. "The Catholic Church and other service providers rely on the national Census to provide an accurate count in order to effectively serve those in need."
Bishop Oscar A. Solis is asking local Catholics to participate, as well. (See left.)
The nation's census has been taken since 1790, when "approximately 650 U.S. marshals and assistants recorded answers on forms made of parchment and animal skins" from people living in the original 13 states, according to 2020census.gov.
This year, people can respond in 12 languages online, by phone or by mail, and "hundreds of thousands of temporary census takers will use smartphones to follow up with households that don't respond," 2020census.gov states.
The census information was mailed to households March 12-20. This letter includes information on how to respond online, by phone or by mail. Those who don't respond to the census will be visited by census takers, who are scheduled to make these visits from May to July.
The Census Bureau has special procedures in place for census takers to count college students living on campus and people living in senior centers, as well as those who are experiencing homelessness.
The Census Bureau also is warning people to avoid scams that may attempt to acquire personal information by pretending to be related to the census. "During the 2020 Census, the Census Bureau will never ask for your Social Security number, your bank account or credit card numbers, anything on behalf of a political party, money or donations," 2020census.gov states. "In addition, the Census Bureau will not contact you on behalf of a political party."
Census takers who visit residents will have a valid identification badge with their photograph, a U.S. Department of Commerce watermark, and an expiration date. "If you suspect fraud, call 844-330-2020 to speak with a Census Bureau representative," 2020census.gov advises. "If it is determined that the visitor who came to your door does not work for the Census Bureau, contact your local police department."
To take the 2020 U.S. Census, complete and return the questionnaire that came through the U.S. Postal Service, call 1-844-330-2020, or visit https://my2020census.gov/.