Pastor Appointments Take Effect Aug. 1 - Fr. Joseph Delka
Friday, Jul. 17, 2020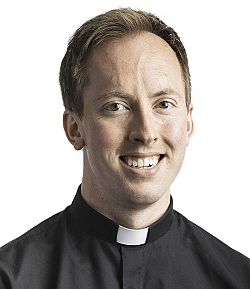 Diocese of Salt Lake City
+ Enlarge
On Aug. 1, six priests in the Diocese of Salt Lake City will assume their duties as either pastor or administrator of a parish to which they have been newly assigned. Following is a brief profile one of these priests, Fr. Joseph Delka.
Fr. Joseph Delka was born in Salt Lake City. He attended Utah State University, graduating with a bachelor's degree in biochemistry. He also holds an S.T.B. (baccalaureate degree in sacred theology) from the Gregorian University and an S.T.L. (license in sacred theology) in moral theology from the Angelicum. He was ordained a priest for the Diocese of Salt Lake City on June 26, 2015 at the Cathedral of the Madeleine by the Most Rev. John C. Wester, Archbishop of Santa Fe and ninth Bishop of Salt Lake City. Following ordination, he returned to Rome for one year to complete his S.T.L. He then served as parochial vicar of St. Joseph Parish in Ogden, and currently is parochial vicar of the cathedral. He speaks English, Spanish and Italian.
On Aug. 1 he will begin serving as pastor of Saint Andrew Catholic Church and School in Riverton and will continue serving as vocation director of the Diocese of Salt Lake City.
What would you like your new parishioners to know about you?
I spent a summer at St. Andrew's as a seminarian and then again for a summer after I was ordained. I'm very happy to be back as their priest! I want them to know that I am eager to reconnect with old friends and meet some new ones, and, most importantly, to follow Christ with them.
What are you looking forward to most about your new assignment?
Well, I do get to stay longer than just a summer! Also, I really enjoy working with our Catholic schools. St. Andrew's is a growing community and I'm looking forward to seeing where the Lord will take our community in the years to come.
As a priest, what has been your greatest challenge?
Balancing my time to attend sufficiently to people's needs can be a challenge.
As a priest, what has been your most satisfying experience?
I am blessed to see God's grace at work in so many and sometimes unexpected ways. I've seen lives change right before my eyes! It's always a great joy to see the Lord doing such great things.