Patrick Dougherty
Friday, Oct. 04, 2019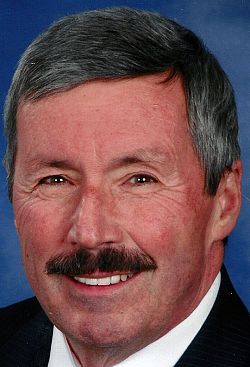 Courtesy photo
+ Enlarge
July 4, 1946 ~ September 25, 2019
Patrick Dougherty passed away on September 25, 2019. He was born July 4, 1946, to Patrick and Adeline Dougherty, both members of the greatest generation this country has ever known and the most wonderful parents any family could ever have. He had 11 younger siblings and was preceded in death by his parents and younger brother Jim.
Pat graduated from Alleman High School in Rock Island, Illinois in 1964 and, after two years in the Viatorian novitiate, he completed his college education at Loyola University with a Bachelor of Science in chemistry. He married Kay Korzun in 1968; they had two sons, Sean and Brendan, and later divorced.
Pat had a number of jobs in Chicago, first working at Westinghouse, then at the Fermi Lab and later at GTE. It was after GTE relocated his division to Salt Lake that he met and married his wife Linda Condie Rugg.
Pat was a member of St. Joseph the Worker Parish, where he served diligently and was a member of the Knights of Columbus and was honored with becoming Grand Knight of 4th Degree. He was proud of his Irish heritage and became a member of the Hibernian Society, where he headed the St. Patrick's Day parade. He loved his family, cherished his friends and shared his jokes and joy of life with everyone he met.
Pat is survived by his wife Linda; sons Sean (Desiree) and Brendan (Kristin); daughters LeeAnn Wilcox (Clint), Aimee Elliott and Rebecca Lee (Ken); brothers Dennis, Michael (Jeri), Tom, John (Cheryl Holz) and Bill (Ingrid Jaanson); sisters Dottie Dougherty (Matt Beeson), Peggy Rahberger (John), Kathleen Dougherty-Krulewitch (Harry), Maureen Rotramel and Roseanne Faccio (Tim); 16 grandchildren and three great-grandchildren.
A funeral Mass was celebrated October 1 at St. Joseph the Worker Catholic Church. Interment followed at Riverton City Cemetery. In lieu of flowers, memorial contributions may be made in Patrick's name to the St. Joseph the Worker Council 7961, 7405 South Redwood Road, West Jordan, UT 84048.
View tribute slideshow and share your photos and memories with the family atwww.starksfuneral.com.