Priest builds Marian grotto for Newman Center
Friday, Sep. 18, 2020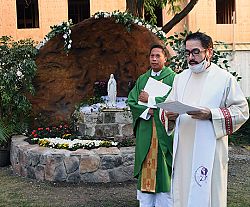 Intermountain Catholic
+ Enlarge
LOGAN — A shaded patch of grass behind the Saint Joseph Newman Center at Utah State University now is home to a replica of the Lourdes grotto.
Fr. Joshua Santos, the Newman Center's chaplain, built the grotto with the help of some students, under the direction of a contractor who is a parishioner.
"Fr. Joshua worked with his hands every day" to construct the grotto, which is built of cement and rock, and has a small water feature, said Fr. Rogelio Felix-Rosas, pastor of St. Thomas Aquinas Parish, who blessed the grotto on Sept. 13.
The Newman Center president, Nick Sauer, praised Fr. Santos, saying the priest "really rallied the students that were here this summer to get a lot done in a short amount of time."
"I have always loved the Blessed Mother so much, and wherever I go for a mission I make sure that she has a place there," said Fr. Santos, a native of the Philippines who began his ministry in the Diocese of Salt Lake City in 2018 on Sept. 8, the Nativity of Mary.
During the blessing ceremony, Fr. Felix-Rosas thanked Fr. Santos for creating "this space for the Mother of God, a space to pray the holy rosary every day."
Lourdes is a place where many miraculous healings have occurred, Fr. Santos said, adding, "I think it is a very opportune time to have Our Lady of Lourdes with us, especially in this moment of pandemic. Hopefully, through her powerful intercession, Our Lady of Lourdes … [will] grant healing to our world right now."
While blessing the grotto, Fr. Felix-Rosas asked in part that "all who look upon this image see the glory of the Word made flesh who made his home among us. Bless this image, bless this grotto, and hear the cry of all who pray to your Most Blessed Mother Mary, in whose merits and prayers we seek to share."
Among those who helped build the grotto was USU student Matt Seas. The grotto is important, he said, because "as Catholics, we really go to [Our Lady] for grace."
"It adds a cool feature to our Catholic community here on campus," said Carson Liesik, a Newman Center resident who also helped with the construction.
The grotto gives another reason for people "to come by and just spend some time" at the Newman Center, and is another feature "that makes us known to the surrounding community," as well as being a symbol of the faith, Liesik added.
The grotto is not yet complete; Fr. Santos plans to add a place for people to place written intentions.