Priests, religious women to share vocation stories
Friday, Nov. 10, 2017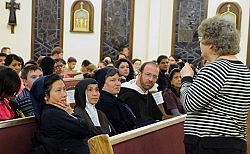 Intermountain Catholic
+ Enlarge
By Jaime Theler
Intermountain Catholic
WEST HAVEN — A Vocations Awareness Night dedicated to stories of the call to consecrated life and the priesthood will be held Nov. 20 at St. Mary Catholic Church.
During the evening, which will be hosted by Father Gustavo Vidal, pastor, attendees will hear from representatives from the Daughters of Charity, Dominicans and Sisters of the Holy Cross, as well as a diocesan priest. Speakers will share their personal vocation story and how they discerned their call to the priestly and religious life.
"Everyone has a different story for how they've been called," said Daughter of Charity Sr. Arthur Gordon, one of the panelists. She is also director of Give Me a Chance, a nonprofit organization that teaches job skills to low-income women, and offers other services to low-income families as well.
Hearing from such a diverse panel will allow those attending the event to understand that there are many ways in which God calls people to serve, said Donna Masek, who organized the evening.
"Within a priestly or religious vocation there are people who are called to a more contemplative vocation, and others live a more active way in service to others," she said. "By having this panel it shows that even within that particular calling there are different ways that God can use that calling to serve different people."
After the speakers take turns sharing their stories, the floor will be opened for a Q&A session. Fr. Vidal will moderate questions from the audience, and the panel participants will respond to the queries.
In addition to Sr. Arthur, speakers will include Fr. Joseph Delka, parochial vicar of St. Joseph Parish; Holy Cross Sr. Celine Dounies, who teaches fourth grade at St. John the Baptist Elementary School; Dominican Fr. Jacek Buda, pastor of St. Catherine of Siena Newman Center; and Dominican Fr. Marcin Szymanski, parochial vicar of St. Catherine's.
While the primary audience for the Vocations Awareness Night is parish religious education classes, Masek believes event is for everyone.
"Anyone who is interested in learning more about the priestly religious life is welcome to come," she said. "As we've extended it to a larger audience, we have had individuals who come that weren't in our parish but in our diocese, who were seriously discerning a possible call to the consecrated life. We're happy to be an instrument in that process for them."
This is the sixth year that the parish has hosted a Vocations Awareness Night. In earlier years, the Awareness Night was located in a classroom, but now it is held in the sanctuary of the church because the environment itself leaves a strong impression said Masek, who has been involved with the event since its inception.
"One of the beautiful things of the event – and it's quite unique – is just seeing a panel of religious all together in one spot talking about their vocations…. In the past some adults have walked away saying they don't know when they've been in the presence of so many religious," she said.
The Awareness Night is just one element of the parish's vocation awareness program, she said. "We're doing what we can to help our diocese and the young people that are in it to consider that as a possible calling in their life. This is a calling people are saying 'yes' to."
WHAT: Vocation Awareness Night
WHEN: Monday, Nov. 20, 7-8:30 p.m.
WHERE: St. Mary Catholic Church, 4050 South 3900 West, West Haven
For information, call 801-898-3821 or visit www.stmarysutah.org.