Rachel Zaelit
Friday, Jan. 10, 2020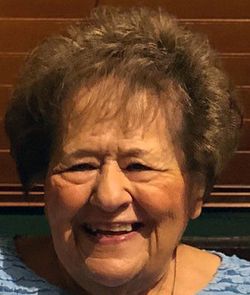 Courtesy photo
+ Enlarge
February 2, 1936 ~ December 25, 2019
Rachel passed away peacefully on Christmas Day, December 25, 2019 of natural causes. She was preceded in death by her loving husband, Tom, and her parents Tofeek and Rose Kaleel.
She leaves behind her children Lisa, Sherri, Tom (Holley), Raymond (Jill), Gary (Stacy); 10 grandchildren; two great-grandchildren; sister-in-law Lucille Zaelit; and numerous extended family.
Rachel, being the first born and eldest of six children, began her natural role of matriarch early on. She was the epitome of an older sister, and a natural born leader. She used her natural leadership abilities in her school years at South High School. Shortly after graduation, while attending a wedding, she encountered and stole the heart of Tom Zaelit. Together, they formed a partnership that provided a source of strength for her mother, Rose, and her siblings, Bonnie, Jack, Diane, Ray, Rosemary and other family members.
They aptly raised five cherished children. Rachel's tenets of education were exemplified by providing each child with a private school experience. Parenting was one of her greatest natural gifts as she imparted strong morals and beliefs to each of them. She extended that same warmth, love and wisdom to her 10 treasured grandchildren, Ashleigh, Morganne, Tyler (Dee Dee), Aubrey, Alexis, Melisa (Jeff), Adam (Courtney), Mitchell, Alexander and Lena; and two great-grandchildren, Adelyn and Emma.
Rachel and Tom created a home filled with love, laughter and devotion which became the heart center for many gatherings with family and friends. Upon entering, you were guaranteed a huge hug and an even larger plate of excellent food.
Rachel's leadership abilities extended into her community. Her generous nature led her to be involved in many groups where strong bonds formed and lifelong friendships were made: a member of St. Jude Maronite Catholic Church, a "poker" group of 50 years, and friends that she met with regularly.
She possessed a unique ability to love, guide, listen and comfort. To say she will be missed is an understatement as she will forever hold a piece of our hearts that can never be replaced.
A funeral Mass was celebrated December 30 at St. Thomas More Catholic Church. Interment followed at Mt. Calvary Catholic Cemetery.