Raymond Alfred Martinez
Friday, Dec. 07, 2018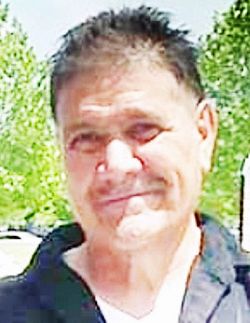 Courtesy photo
+ Enlarge
November 29, 1954 ~ November 4, 2018
Our beloved father and brother Ray passed away peacefully surrounded by family and friends. You will be greatly missed and forever loved, Dad.
During Raymond's life, he enjoyed being a mechanic, from working years at Kennecott Copper to helping family and friends with their cars and bikes. Since he was a young boy, he had always been a free spirit, always on the go. If you knew him, you would know his sense of humor and sarcasm. He had a way with people, always making them laugh. Raymond went through a lot of ups and downs, but was strong and always bounced back stronger every time. He enjoyed spending time with his love, Patricia Ortega, and spending time driving her crazy.
He is survived by his children, Shonty, Shauntay and Alicia (Ryan Laird); grandchildren, Jessika Brooke, Shandell Natalia, Shennell Alicia, Jennessa Sierra, Brody Alexander, Elvis Mateo, Charly Carolina, Dylan Brayden, Mindy Maraysia, Johnleah Samaya, Paxton Ty, Mark Devon, Donovan Jack; and great-granddaughter, Alyvia Jordyn; brothers Tony (Carol), Ted (Ana), Jerry (Yvonne) and Thomas (Lisa); sisters Elaine (Alex), Lucy (Andy) and Debbie (Tony); sisters-in-law Terri, Dian and Tina; and lots of nieces and nephews, cousins and friends.
He was preceded in death by his parents, Malaquias and Tiofila Martinez; brothers Paul (Terri), Gilbert (Dian) and Joe (Tina); and brother-in-law Tony Freestone.
A funeral Mass was celebrated Nov. 13 at St. Joseph the Worker Catholic Church, with graveside services at Redwood Memorial Estates.
Dear Lord, please accept Raymond; he has lived a hard life. Raymond did his best here in this cruel world to make up for all his wrongs. In the end, he was a savior to many. Please accept him as your new angel. Allow him to guide his family, as they need him as their guardian angel. Until they meet again, allow our father to rest in paradise. Amen.