Rebecca (Becki) M. Rios
Friday, May. 11, 2018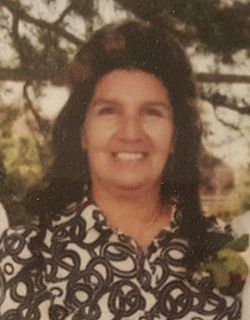 + Enlarge
November 4, 1956 ~ April 15, 2018
Rebecca (Becki) M. Rios was given her wings by our Heavenly Father on Sunday April 15, 2018.
She was born to Jim B. Martinez and Ernestine Martinez.
She married the love of her life, Anulfo (Beshinee) Rios, on August 28, 1976 in Ogden, Utah. They were blessed with two children, Amanda and JJ. Their marriage was solemnized at St. Joseph Catholic Church on March 30, 1977.
She was a parishioner at St. James the Just Catholic Church.
She is survived by her son, JJ Rios, and daughter-in-law Loni Rios; seven grandchildren and four great-grandsons; mother, Ernestine Martinez; sisters Debbie (Leroy) Martinez (with whom she shared a special bond), Marylou (Rick) Young; brothers Arthur (Lori) Martinez and Michael (Sue) Martinez; and many nieces and nephews.
She was preceded in death by her father, Jim B. Martinez; husband Anulfo (Beshinee) Rios; and daughter Amanda Rios.
She was a very dear and loving wife, mother, grandmother, great-grandmother, daughter, sister, aunt and friend to all she knew.
She will be truly missed by everyone who knew and loved her.
A funeral Mass was celebrated April 24, 2018 at St. James the Just Catholic Church.
Condolences may be sent to the family at www.aaronsmortuary.com.