Redemptive Suffering, St. Maximilian Kolbe and Knights at the Foot of the Cross
Friday, Jan. 08, 2021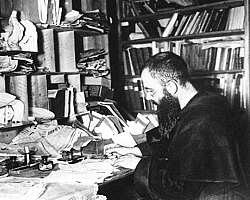 Courtesy photo/MI-USA; used with permission
+ Enlarge
By Donna Masek
"Offer it up." These words of direction were heard by many of my contemporaries during their formative years. Be it physical, emotional, psychological or spiritual challenges, "offering it up" was the remedy to dealing with the challenges in one's life. Another definition for this terminology would be "redemptive suffering." By uniting one's sufferings to the Passion of Christ, one can both experience the forgiveness of one's sins and pray for the conversion and sanctification of others.
St. Maximilian Kolbe knew firsthand the realities of suffering, and believed in the power of redemptive suffering. Extremely overworked, he at one point in 1922 collapsed from exhaustion. Suffering from tuberculosis, he was sent by his superiors to the mountainous region of Zakopane, Poland for respite where the natural environment was easier. Ultimately living with one lung, he endured the harshest of treatments as a Polish Catholic priest at Auschwitz. Believing in the power of redemptive suffering, he would earlier bring visitors to his friary's infirmary. "This is the real powerhouse of Niepokalanów. These sick friars are 'offering up' their sufferings and prayers for those in the active apostolates," he taught.
"Although storms rage around us often, and thunder resounds, if we are unreservedly dedicated to the Immaculata, we can be sure that nothing will happen to us, as long as our best and dearest Mother will not allow it. We shall rest sweetly as we labor and suffer for the salvation of souls. … Thus, we will show how we love the Father and our best friend Jesus and his dearest Mother, for suffering is the school of love." (St. Maximilian Kolbe)
St. Kolbe already envisioned a special group of consecrated souls that would "offer up" their sufferings for the benefit of those in the physically active Militia Immaculata apostolate. This dream became a reality on the Feast of the Visitation, May 31, 1983, when a small core group of Conventual Franciscan Friars consecrated their sufferings to Our Lady, the Immaculata, as Knights at the Foot of the Cross. Today, there are thousands of Knights at the Foot of the Cross and additionally Villages of the Immaculata dedicated to promoting and encouraging their members to accept their sufferings for the love of God and others.
Information on the Knights at the Foot of the Cross can be found at https://militiaoftheimmaculata.com/knights-at-the-foot-of-the-cross/, or by contacting Donna at miutah.stmary@gmail.com
Donna Masek is a Volunteer of the Immaculata and coordinator with the Utah Immaculata Villages, which serves both the English and Spanish communities.