Relief efforts at the Skaggs Center
Friday, Sep. 15, 2017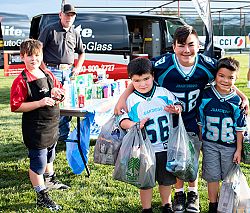 Courtesy photo/M. Marston
+ Enlarge
By John Moran
Special to the Intermountain Catholic
DRAPER — Juan Diego Catholic High School student body president Christian Carbajal and his fellow student body officers led the Skaggs Catholic Center campus to implement th high school's "Spiritus Donorum" (Spirit of Giving) philosophy to help with the Hurricane Harvey aftermath.
The students of Saint John the Baptist Elementary and Middle schools also jumped into action with Juan Diego to multiply the campus effort.
Just as the many entities of the Diocese of Salt Lake City empathized with the victims of Hurricane Harvey, the students of the three schools were called to action.
After researching what FEMA, the Red Cross, civic agencies, corporations and faith groups were doing, a three-pronged approach was created.
The first was a $10 spirit dress day for Sept. 7 and Sept. 8. Students of all three schools got to wear school spirit clothes instead of school uniforms. This raised more than $10,300, which will be given to Catholic Relief Services in support of their relief efforts.
"We love coming together as a campus to be a strong force out there doing good for others," said Saint John the Baptist Middle School Principal Patrick Reeder.
Capitalizing on Friday night's home football game, the Juan Diego CHS student body officers reached out to the student body officers of the visiting team from Murray High School to help collect toothpaste, toothbrushes, soap, shampoo, deodorant and other necessities.
Safelite AutoGlass, which has always been a significant contributor to relief efforts, will transport all the donated items to the affected areas on behalf of the schools.
"Our students are very good at figuring things out and always have a willingness to help," said Dr. Galey Colosimo, principal of Juan Diego Catholic High School.
The third component to the students' relief efforts will come in collaboration with a local corporation that will allow the Skaggs Catholic Center community to purchase necessary items at retail price at the schools for distribution at wholesale prices in Texas. This third wave of help will be a longer-term project, culminating at Juan Diego's Homecoming football game on Sept. 29.
This compassionate plan joins the Skaggs Catholic Center community in solidarity with diocesan efforts and their neighbors of all faiths.
"I am proud of how the SJB families and staff have responded to this campus effort," said Nikki Ward, principal of Saint John the Baptist Elementary. "Together we continue to pray for the relief of suffering, and for the men and women that put themselves in harm's way to help the victims of Harvey and the coming threat of Irma."
John Moran is director of public relations for the Skaggs Catholic Center.