Religious emblems presented during Scout Saturday
Friday, Feb. 09, 2018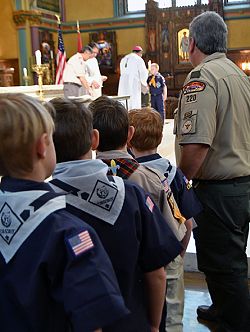 Intermountain Catholic
Photo 1 of 2
SALT LAKE CITY — The Diocese of Salt Lake City celebrated the annual Scout Saturday on Feb. 3 with a ceremony at the Cathedral of the Madeleine.
The Scouts received the religious emblems they had earned over the past year from Bishop Oscar A. Solis and Father Kenneth Vialpando, pastor of St. Marguerite Parish.
Scouting is part of the Catholic faith's youth ministry because it brings together young people from different backgrounds to form a community that acts to improve the world, Bishop Solis said in his comments. He urged the Scouts "to stop looking at each other differently – whatever their faith, whether they are boys and girls, whether they are rich or poor, whether they are documented or undocumented, please see each other as all children of God."
As Scouts, the youth "are wonderful instruments of change in our world," the bishop said, and he urged them to always be ready to make people's lives better and society a better place.