Religious instruction under way at St. Thomas More Parish
Friday, Sep. 04, 2020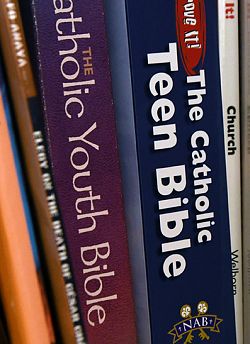 Intermountain Catholic
+ Enlarge
COTTONWOOD HEIGHTS — At St. Thomas More Parish, Director of Religious Education Tami Bernstein is combining in-person classes for some students with online classes and providing support to parents who are teaching their children at home.
For sacramental preparation classes (Reconciliation, First Holy Communion and Confirmation) the parish provides textbooks at cost to parents, who pick them up in the church foyer to maintain safe social distancing. Teachers meet with classes weekly by Zoom. For religious education students in other grades, after parents register their children by email, Bernstein provides them with textbooks/workbooks so the children may be homeschooled.
According to the Catechism of the Catholic Church, "the parent is the primary teacher, and I think this is a wonderful opportunity to implement that," she said. "The idea is they can work at home at their own pace."
When students complete the workbook, they turn it into Bernstein, who reviews it and determines if they can advance to the next class.
Father John Evans, the parish pastor, has instructed Burnstein to prepare for in-person classes when Salt Lake County health directives allow. However, some parents have expressed concern about their children participating in-person, Bernstein said. In those cases, they may be able to arrange for those students to participate electronically with the rest of the class that will be meeting in person.
The parish plans to have a socially distanced RCIA class meeting soon. Bernstein anticipates most of the classes will be held online, with occasional in-person meetings. "The majority of their catechetics are going to be done via Zoom or via email," she said.
Bernstein said she will probably start a parish Zoom Bible study class after the other programs are up and running. Learning how to instruct remotely is challenging, she admits.
"It's basically reinventing everything we do," she said. "My motto is 'We'll make it work,' because you can't turn people away. You have to help people and if they are interested in faith formation then it's my job to figure out how to help them."