Replica of the Pietā on display in St. George
Friday, Feb. 02, 2018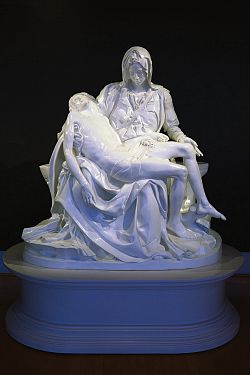 Courtesy photo/Dixie State University
+ Enlarge
ST. GEORGE — A rare casting of the Michelangelo sculpture the Pietà, will soon be available for public viewing at Dixie State University Sears Art Museum Gallery.
The Pietà is a life-sized sculpture depicting the Virgin Mary cradling the body of Jesus after his crucifixion, which Michelangelo created for Cardinal Jean de Bilhéres' funerary chapel and which is now on display in St. Peter's Basilica in Vatican City.
The Carrara marble casting, which is also life-sized, is the 14th of only 100 being distributed worldwide by Arte Divine, a Beverly Hills, Calif. company, under license from the Vatican Observatory Foundation.
"Our mission is to facilitate the placement of these sublime sculptures in settings where they can touch the lives and hearts of the faithful," the company's Facebook page says.
Among those who attended the Jan. 5 ribbon cutting at Dixie State University to see the Pietà were St. George parishioners Carole Drake and her husband Donald, who are members of the St. George Interfaith Council. Carole Drake is also the parish's director of Stewardship and Engagement.
"It was just magnificent," Carole Drake said. "I was so in awe of the emotion, faith and surrender Michelangelo, who was such a young man when he completed the piece, captured of Our Mother and her suffering during the Passion and crucifixion of Jesus."
While the piece has great meaning for most Catholics who venerate the Virgin Mary, it also has impact on others, Drake said.
"I know a woman on the Interfaith Council who is of the LDS faith who said she is moved to tears every time she sees it," Drake said.
The Pietà, which Michelangelo created between 1498 and 1500 when he was in his early 20s, was the only piece he signed.
The exhibit was made possible by a contribution by anonymous donors.
"We are thrilled to have such a beautiful piece of art on the Dixie campus; it is truly breathtaking," said Brad Last, vice president of institutional advancement and development at DSU. "The generosity of the donors is humbling and we simply can't thank them enough. We are so grateful that they have entrusted us to display and care for this inspiring sculpture."
The public opening of the exhibit, which will take place on Feb. 17, is being held in conjunction with the 31st Annual Robert N. & Peggy Sears Dixie Invitational Art Show & Sale.
The exhibit will be open through April 1 from 10 a.m. to 6 p.m., Monday through Saturday and 2 to 6 p.m. on Sundays in the Sears Art Museum Gallery, located in the Dolores Doré Eccles Fine Arts Center. The Pietà will remain on exhibit year-round as part of the gallery's permanent collection. Admission into the gallery is free.
"Imagine all who will appreciate seeing this masterpiece, many who would never have otherwise had the opportunity to see it in St. Peter's, and even then, only to view it from 30 feet away and behind bulletproof glass," said Kathy Cieslewicz, Sears Art Museum Gallery curator. "Imagine realizing there is no greater love than that of a mother for her child and the epiphany of knowing the greatest thing one can do in the world is to love their children."