Respect for Life events scheduled in January
Friday, Dec. 17, 2021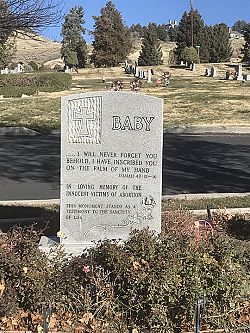 IC file photo
+ Enlarge
SALT LAKE CITY — Several events in January will give Utah Catholics opportunities to pray and advocate for the unborn and those nearing the end of life.
"January is a month dedicated to the unborn as we commemorate Roe v Wade," said Crystal Painter, director of the Diocese of Salt Lake City Office of Marriage & Family Life. "Each year the diocese offers opportunities for prayer and formation for a respect for life. We have a bilingual rosary at the Monument for the Unborn at Mt. Calvary Cemetery as well as a Mass for the Unborn with Bishop Oscar A. Solis along with a special Ceremony of Lights, honoring all the souls lost to abortion."
The annual Bilingual Rosary for the Unborn will be held Jan. 16 at 2 p.m. at Mt. Calvary Cemetery, 275 U St., Salt Lake City. Weather permitting, it will be outdoors, by the Monument for the Unborn, which is in front of the mausoleum. In inclement weather, the event will be moved inside the mausoleum.
On Jan. 21, Bishop Solis will celebrate the annual bilingual Mass for the Unborn and Celebration of Lights at 6 p.m. at the Cathedral of the Madeleine, 309 E. South Temple, Salt Lake City. Candles will be lit inside the cathedral in remembrance of the unborn lost to abortion. The Knights of Columbus will provide an honor guard and, following the Mass, will stand guard outside the cathedral with lighted candles.
The Utah March for Life, which many Catholics participate in, will be hosted by Pro-Life Utah and will be held at the state Capitol on Jan. 22. A rosary will be recited at 10 a.m. At 11 a.m. Bishop Solis will give the opening prayer, which will be followed by keynote speaker Nick Vujicic, founder of Life Without Limbs, an international non-profit organization and ministry.
The diocesan Respect for the Dignity of Life Day will be Jan. 29 from 9 a.m. to noon at Blessed Sacrament Catholic Church, 9757 South 1700 East, Sandy. The event will begin with a bilingual Mass, followed by a presentation by Father Sam Dinsdale, pastor, on "Catholic Teaching on the Dignity of Human Life." Catherine Stokes, chairperson of the diocesan Respect for Life Commission, will give a talk called "At the Hour of Our Death:  End of Life Care in the Catholic Faith."
"When someone we love is dying, we are in a stressful time, full of emotions and uncertainty," Stokes said. "How do we accompany someone who is suffering during the final stages of life? What can we do to promote their dignity? We will explore the big questions and uncertainties Catholics may have about medical care. At the end of life, we can undergo many kinds of suffering – physical pain, psychological suffering and spiritual suffering. How do we address these in a compassionate way?
"We will also look at what is happening in our culture," she added. "Sometimes it can be hard to see the sacredness of human life, especially when death is near. What does the Catholic Church say about euthanasia and assisted suicide, and why? We'll also look at characteristics of good hospice and palliative care."
Following Stokes' presentation, Jean Hill, director of the diocesan Office Life, Justice and Peace, will give an update on legislation being proposed in the 2022 Utah State Legislative session.
"Exercising our Catholic voice in the public square is one critical way we respond to our baptismal call to build a more just and peaceful world," Hill said. "This session, we will have the opportunity to do so by advocating for a consistent ethic of life that opposes the culture of death created by capital punishment. Our voices can also help ensure our political leaders prioritize the needs of the poor and vulnerable through a significant investment in deeply affordable housing and homeless services. Our faith offers so much good to our community and legislative advocacy can create lasting change for the common good."
At the Jan. 29 Respect for the Dignity of Life Day, On-site Spanish translation will be provided. The event will be live-streamed (English only) via Facebook Live; you must register to receive the link. To register, visit https://www.dioslc.org/events/56.
"In our Diocesan Pastoral Plan Vision Statement, it states clearly that 'We promote the sanctity of human life and the dignity of every person' and there are specific goals and objectives of the Diocesan Pastoral Plan that these events fulfill," Painter said. "This year in particular, is a very important time for prayer and fasting as the Dobbs vs. Jackson Women's Health Organization case is being decided and how that decision may affect Roe vs. Wade [the 1973 U.S. Supreme Court decision that ruled that women have a constitutional right to an abortion in the United States]. It's important for us to pray diligently for the innocent unborn, for the men and women who are impacted by abortion and for the Supreme Court justices."