Retirement party planned for JoAnn Seghini
Friday, Feb. 09, 2018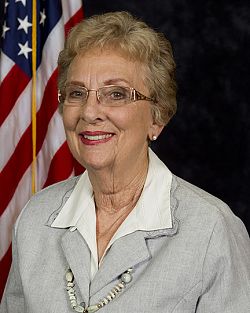 Courtesy photo
+ Enlarge
MIDVALE—Longtime Saint Therese of the Child Jesus parishioner and public servant JoAnn Seghini is being honored on her retirement as mayor of Midvale on Feb. 11.
Seghini, 80, recently completed her fifth term as mayor, following three terms on the Midvale city council. She was the first woman elected to public office in Midvale and the first female mayor.
She is self-depreciating about her political success.
"When people asked me how I beat out my opponents, I always say, 'I got more votes than them – that will do it every time,'" she said.
Seghini believes she has a responsibility to make the world a better place, as evidenced by her more than 32 years of public service.
She was instrumental in bringing The Road Home overflow shelter to Midvale and has worked extensively with Lifestart Village (a program for homeless mothers and their children), the Boys and Girls Club and the Humane Society. In addition, she worked to have the city's Superfund site cleaned up; the site has been removed from the Environmental Protection Agency's Superfund list; since the cleanup, housing and businesses have been built there. She also encouraged economic development and saw businesses such as Overstock.com and FLSmidth locate their headquarters in Midvale.
"I have been very, very active politically because that's your job if you're a leader in your community," she said. "You have to lead for all of the people, to make sure the community has concern for both the least of their brothers and the best of their brothers."
Seghini is a convert to Catholicism. Growing up in Midvale, she briefly joined The Church of Jesus Christ of Latter-day Saints, but was treated unkindly by other children there, she said, and did not continue in that faith.
Over the years, she attended other churches, but none felt like home, she said.
Seghini married an Italian/Irish Catholic from New York City and the two began their family there. Their two sons, Steven and Edward, were baptized in the Catholic Church. Seghini remembers the experience.
"I felt for the first time like I was in a house of God," she said.
When her sons were 13 months and 3 months, respectively, Seghini's husband left the marriage.
"He told me, 'I don't want to be a father – I have too many things I want to do,'" she said.
So Seghini's family traveled to New York and brought her and her children home to Midvale.
As a young, single, working mother, Seghini turned to the Church to sustain her and was baptized more than 40 years ago by now-Msgr. Terence Moore.
Seghini has bachelor's and master's degrees,, as well as a doctorate in education. She was a teacher and educator in the Jordan School District for 36 years. She also worked in the Catholic schools, helping with accreditation and teacher training.
"I think more of JoAnn as the mayor who was everywhere," said Fr. Martin Diaz, now rector of the Cathedral of the Madeleine, who was Seghini's pastor at St. Therese of the Child Jesus Parish for eight years. "One of the places was her church."
Fr. Diaz said Seghini always made it a priority to ensure that the parish was able to help the community of Midvale and actively worked to develop connections between the parish, city and community.
"You could always go to her if you had a concern about something in city," Fr. Diaz said.
Over the years, Seghini has served in the parish as an extraordinary minister of the Holy Eucharist, a lector and as a member of the finance committee and the parish council.
Friends say Seghini's mantra is "My faith is part of who I am and what I am."
"She would absolutely do anything for anyone," said Colleen Costello, her friend of 40 years and fellow parishioner. "It has shown not only in the parish but in her school life. She is one of the most loving and genuine people I've ever known."
These days, Seghini, 80, is affected by macular degeneration and as a result has had to cut back her involvement, but her faith has never wavered.
While Seghini has formally retired as mayor, she says her work is not done.
"I'm not quitting," she said. "While I have more physical limits, I'm young in spirit."
Costello laughs at the idea of her friend "retiring" from her good works.
"She reaches out to so many people in need," she said. "She will be doing a lot with Boys & Girls Club, the homeless and the many boards she is a member of. These things keep her busy and active."
Fr. Diaz, Seghini and Costello are part of a group that has regularly attended the opera, going out to dinner together before the performances, something Seghini expects to continue.
Seghini is also embarking on another spiritual journey by becoming active in the Cursillo movement.
WHAT: JoAnn Seghini retirement reception
WHERE: Saint Therese Parish Social Hall, 624 W. Lennox St., Midvale
WHEN: Sunday, Feb. 11, 4:30 p.m. to 6:30 p.m.
Parishioners and friends are invited to share a story about her or pictures for a memory book the parish is assembling. , To RSVP or for information, contact Sharon McPolin, 801-255-0720.