Retreat encourages healing relationships with God
Friday, Aug. 04, 2017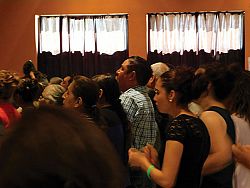 IC photo/Laura Vallejo
+ Enlarge
OREM — More than 500 Catholics gathered July 28-30 for a three-day healing retreat at Saint Francis of Assisi Catholic Parish in Orem. They enjoyed music, worship, prayer, talks and reflections through the activities and presentations by Fr. Luis Armando Rabago Moreno from Sinaloa, Mexico; Father Daniel Gagnon Omi, director of the Commission for the Doctrine of the Faith in the Archdiocese of Mexico City and the founder of the Burning Bush Community of Mexico City; and Gela, a well-known Catholic singer.
The retreat was organized by Pescadores de Cristo (Christ's Fishermen). The theme was based on John 4:24 – "God is a Spirit, and they that worship him must worship him in spirit and in truth."
The retreat started Friday evening with a Mass celebrated by Fr. Jose Barrera, administrator of Saint Therese of the Child Jesus Parish, who is also the spiritual adviser of the diocesan Charismatic Renovation.
On Saturday and Sunday the presentations included themes such as "The Forgiven," "Chosen to be Saints" and "The Good News in Our Families."
Those attending the retreat came from all over the Diocese of Salt Lake City. Some arrived as families, other as individuals, but all were searching for ways to heal their relationship with God.
"I have felt God's presence. ... It is something that you feel in your heart. … It has been a beautiful experience that has taught me a lot. Life's circumstances sometimes make us get away from God, but here we are today, learning," said Rosario Fajardo, an Our Lady of Guadalupe parishioner.
To be able to host this type of retreat was important because "we have seen the need in many people who have carried their troubles since they were very little ... so through these retreats we see God's presence through the healing of their hearts through forgiveness," said Joel Segundo, a member of Pescadores de Cristo. He added that "Our pope has told us to be a church that reaches out, that we cannot be just receiving. We have to offer; we need to reach out, and this retreat is a way to do so."
At the retreat, the importance of family relations was constantly mentioned by the presenters.
"For me this is very important because our lives are continually changing. ... We have to transmit the Good News and the message to our children. It is very important that we are together as a community and transmit the message to everyone that we can," said Audry Salsedo, a Saint Francis of Assisi parishioner.
In today's world, youth are corrupted by all the noise that surround them, "and this retreat is a good way to transmit our love and care for them as well as the love and care that Jesus Christ has for all of us," Salsedo said.