Rite of Election celebrated for three deaneries
Friday, Mar. 17, 2017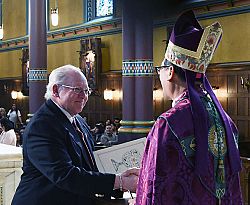 IC photo/Marie Mischel
Photo 1 of 2
The Diocese of Salt Lake City celebrated the Rite of Election and Call to Continuing Conversion for the Eastern, Northern and Southwestern deaneries on March 11 in the Cathedral of the Madeleine, with Bishop Oscar A. Solis presiding.
The rite for the Wasatch and Salt Lake deaneries was celebrated March 4 in the cathedral, with Father Martin Diaz presiding.
In all, there are 273 catechumens and 153 candidates in the diocese this year.
The rite is a blessed moment in the life of the diocese, Bishop Solis said in his homily. "The presence of catechumens and candidates is a very meaningful manifestation of a very important reality in the life of this Church. … You bring new life into our Church, into our faith community."
The bishop reflected on the Gospel reading about the temptations of Christ in the desert, and said that the materialistic world will offer similar snares to Christians: the desire for an easy life, the temptation to put God to the test, and the urge to seek power and glory.
In the face of these temptations, the Gospel message taught by Jesus – that through prayer, through the Word of God and through steadfast commitment, the Christian must obey God at all costs – is important, the bishop said.
"Temptations are only opportunities to make ourselves grow our faith and our love for God," he said.