Ruby Sato
Friday, Sep. 07, 2018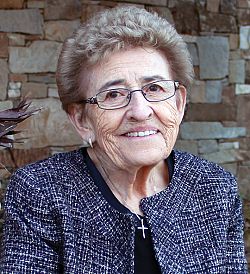 + Enlarge
October 18, 1929 ~ July 17, 2018
Our beloved mother, grandmother, great-grandmother, sister and friend, Ruby Sato, passed away peacefully at home on July 17, 2018.
Born in LaSauces, Colo. on October 18, 1929 to Rudolph and Rose Samora, she spent her early years working the farm and excelling in her education, graduating with honors and earning a scholarship in agriculture.
Ruby married Henry Sato on June 23, 1948 in San Luis, Colo. They moved to Utah in 1951, where she took pride in raising seven beautiful children and enjoyed working at local grocery stores and pharmaceutical company.
Ruby loved to socialize and was a member of many clubs where she held various positions, including officer titles. She was very active in the Catholic Church, where she taught CCD for many years, and she enjoyed helping others. She was a big fan of the Utah Jazz and loved watching every game. She also loved listening and dancing to music of all types.
Ruby's most joyful moments were spent surrounded by family. She was admired by many for being loving, generous, kind and accepting of everyone.
She is survived by children Patricia Sanchez, Henry Jr. (Judy), Bill (Lezlie), Loretta (Lorenzo) Lucero, Karl, Debbie (Mark) Littlefield, Audrey Sato (Paul Kotturi); 13 grandchildren; 11 great-grandchildren; sisters Francis, Cleo, and Anna; brother Rudolph Jr.; and many nieces, nephews and friends.
She was preceded in death by an infant daughter, husband Henry, parents, brother Johnny, sisters Velma and Priscilla, son-in-law Fernie, and grandson Madio.
A funeral Mass was celebrated July 23, 2018 at St. Joseph the Worker Catholic Church.
She is deeply loved and will be greatly missed. Love you, Mom!