Search for deeper understanding of faith leads deacon to a doctoral degree
Friday, Jul. 05, 2019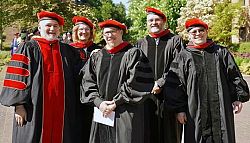 Courtesy photo
+ Enlarge
BOUNTIFUL — Scott Dodge, a deacon assigned to St. Olaf Parish, received a Doctorate of Ministry from Mount Angel Seminary in Oregon on May 12. He was part of the first six-member Doctor of Ministry class at the seminary.
An Ogden native, Deacon Dodge is a convert to the Catholic Church, having been raised as a member of The Church of Jesus Christ of Latter-day Saints. His disaffection with that church began when, after returning from an LDS mission, he pursued a bachelor's degree with a double major in philosophy and history from the University of Utah. In his coursework he studied the sources of religious knowledge and began to question the doctrines he had been taught.
"It made me look at faith in a way I hadn't looked at it before," he said. However, "There was never a time I didn't believe in God, never a time I wasn't a Christian."
As part of his studies, Deacon Dodge read Essay in Aid of Grammar of Assent by Cardinal John Henry Newman. After reading Newman's autobiography, he was inspired to further investigate Catholic teachings. During this time, he began to visit the St. Catherine of Siena Newman Center in Salt Lake City, where his faith and his desire to be baptized grew. He went through the RCIA process and was baptized Easter 1990.
Even prior to his baptism, he began to live at the Newman Center where he seriously considered a vocation to the priesthood. However, during that time he met his future wife Holly, a former Episcopalian who had joined the Church the year before he did. They dated for two years and were then engaged for two years before marrying at the Newman Center in 1993.
After receiving his bachelor's degree, Deacon Dodge did some graduate work at the university in philosophy. He also worked for the diocese in what was then the Catholic Center, running the bookstore and resource center, and served as the director of religious education at the Cathedral of the Madeleine for three years.
At the urging of Msgr. M. Francis Mannion, who was then the cathedral rector, and Sr. Maria Esther Molina, a Sister of Notre Dame de Namur, he began the diaconate program in 2000 and was ordained in 2004 by Bishop George H. Niederauer. He served at the Cathedral of the Madeleine for 11 years before being assigned in 2015 to St. Olaf's, where he is parish SAFE Environment coordinator, leads RCIA, teaches baptismal preparation for parents and godparents, preaches, and is heavily involved in liturgical ministry.
Deacon Dodge went on to receive a master's degree in pastoral ministry from St. Mary's University in Winona, Minn. The title of his thesis is "Making up for what was previously lacking: the importance for the church of the dual sacramentality of married permanent deacons."
"Having married clergy makes up for something previously lacking in Catholic pastoral ministry," he said. "Even though we are clergy, we live lives much more in tune with most Catholics."
In 2016, when the opportunity arose for him to pursue his doctoral studies, Deacon Dodge said he was hesitant because there was a lot going on with his family and his responsibilities at St. Olaf. However, his wife strongly encouraged him to do it.
So, in an intensive course of study, for the last three years he spent each June at the seminary. The program's doctoral candidates take three week-long intensive courses in scripture, liturgical/systematic theology and pastoral theology, along with completing a doctoral project or dissertation. Having been asked to consider writing a book on diaconal spirituality by a Catholic publisher in 2015, for his dissertation Deacon Dodge approached diaconal spirituality from the perspective of systematic theology.
"The Second Vatican Council issued a universal call to holiness. I looked at the practices that facilitate holiness, one of which is service. Another name for service is diakonia. Diakonia, therefore, is an inherent part of any authentically Christian spirituality," he said.
A lifelong lover of learning, Deacon Dodge said while he has no plans to pursue further formal studies, he will continue reading and studying about the Church and its teachings.
"In my own ministry I have discovered that coming to a deeper and fuller understanding of faith is important to keep your faith alive," he said.
For the past 10 years, Deacon Dodge has worked as a civilian for the Air Force in acquisitions. He lives in Bountiful with his wife and four of their six children, who have all grown up in the faith. Deacon Dodge said his LDS family have been supportive of him in his faith journey; in fact, his mother and one of his sisters attended his graduation from Mount Angel Seminary.