Service trips take Judge students to four continents
Friday, Feb. 09, 2018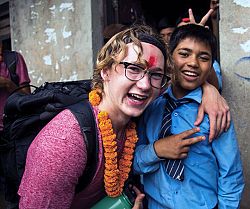 Courtesy of JMCHS
+ Enlarge
By Maggie Bailllie
Special to the Intermountain Catholic
SALT LAKE CITY — Over the summer of 2017, many Judge Memorial Catholic High school students participated in international service programs that took them to places across the world. More than 10 JMCHS students were involved in the YouthLinc program, while senior Reilly Edgar participated in service projects in Sumatra and Bali through a group called Adventures Cross Country (ARCC).
Bulldogs Sophie Campbell, Koji Nagata-Brown, and Keaton Yoshinaga traveled to Peru.
"I loved going to Peru," Koji said. "There was a lot going on, and I enjoyed being a part of the bustle of everyday life there. My favorite part was being able to connect with everyone regardless of the huge culture difference."
Before the trip, the three students prepared English lessons, health fairs, and culture fairs. They also were required to complete 80 hours of local service prior to the trip.
"I thought it was really important to do those 80 hours of service regardless of how hard it was," Campbell said. "It showed me a lot about myself and how I will most definitely go on another service trip."
Peru wasn't the only place that Judge Memorial students served this summer.
Maggie Baillie, Sofia Clark, and Zach Jerome traveled to Nepal and Missy Fang, Zoe Bauman, and Ellie McCoy went to Thailand.
McCoy had the time of her life in Thailand, she said.
"Looking back, I thought it was so cool how close I got with the little kids. It is crazy how it is even possible to make connections with the huge language barrier that is present," she said.
Similarly, Averi Bailey said she was able to connect with people despite barriers in Cambodia. "My favorite part was being able to communicate with the people in the village; even though we didn't speak the same language, we still understood each other and accomplished a lot of great things."
Jerome had an amazing time as well, he said. "My favorite part was being able to go on home visits and see how they lived in comparison to us. It was really important to me to see this because the Nepalese culture is so different and it only made sense to be immersed in it while we were there."
In Cambodia Bailey encountered some of the troubles of the past. "The most challenging part for me was when we went on home visits. A lot of the people we worked with are survivors of genocide that took place in Cambodia about 50 years ago. Yet even though they've dealt with severe loss and abuse, they're all very humble and happy."
All trips with Youthlinc include visits to the homes of the villagers. It has been a part of the program since it began and is one of the main things people look forward to while on the trip.
"This is something that I think that everyone should do at some point in their life," Fang said. "It was hard work, but it is something that I'll always remember."
Maggie Bailllie is a senior at Judge Memorial CHS.