Seventh annual diocesan Catholics Can Mass recognizes contributions of parishioners with disabilities
Friday, Oct. 13, 2017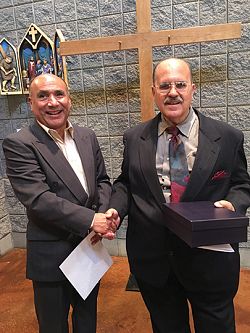 IC/Tom Vitelli
+ Enlarge
PARK CITY — When David De Leon serves as lector of St. Therese of the Child Jesus Parish, his fingers move carefully across the raised dots on the page. As he translates the Braille dots into spoken words, he speaks slowly. De Leon, who is blind, also practices the texts in advance, so his pacing and diction will be excellent.
Steven Rachele, who lives with what he calls the "hidden disability" of mental illness, volunteers at St. Catherine of Siena Parish, welcoming parishioners each week with a big smile.
The contributions of both men were recognized at a special Mass on Oct. 7 at St. Mary of the Assumption Catholic Church in Park City. The annual Catholics Can Mass is sponsored by the diocesan Commission for People with Disabilities and celebrates the gifts of people with disabilities who work toward meaningful participation within their parish.
"This Mass has special meaning in reminding us that people with disabilities provide valuable contributions to our parishes, said Bishop Oscar A. Solis, who celebrated the Mass. "We are truly blessed by their positive attitude and willingness to help."
When De Leon isn't reading at Mass, he can be found volunteering with others on the "Sandwich Project," a group of about 30 volunteers who give of their time to make more than 300 bag lunches twice a month for those in need at the Road Home family shelter in Midvale. De Leon's job is to put napkins in all of the bags, which he can do in a matter of minutes. He has also taught confirmation classes at the parish. In his free time, he stays fit by jumping rope.
"David is amazing," said Mark Neisen, a parishioner at St. Therese of the Child Jesus who nominated De Leon for the award. "He works hard and shows up on time and with a smile. We really depend on him at the parish. In all of the years I've known him, I've never detected any bitterness from him about losing his sight. He has faith and acceptance, and his faith enriches the everyday experiences of his life."
Rachele, in addition to his volunteer activities at St. Catherine of Siena, is involved in activities sponsored by the Knights of Columbus, where he is a Fourth Degree member.
Rachele began to show signs of mental illness as a teen, although he was able to attend college and work as a recreational therapist for a number of years. He takes medication to control his symptoms.
"Steve's work at St. Catherine's is very important to him," said Aldon Rachele, Steve's older brother. "It gives meaning to his life, and we're very proud of him."
"It hasn't been easy for Steve, and sometimes people have treated him badly because they don't understand his illness," added Rachele's sister Kaye Rachele-Flanery. "He is a caring and compassionate person who reaches out to others with warmth and without judgment. I've learned a lot from him about treating others, especially those with disabilities, with dignity and respect."
Both De Leon and Rachele have found learning to live with a disability has brought them closer to God.
"I'm humbled to receive the award," Rachele said. "It gives me joy and a lot of peace of mind, and I'm immensely touched. I have a deep and loving faith in Jesus and the blessed Mary, and I pray to them every day for courage and strength in living with my illness."
"I feel very happy about receiving this," said De Leon. "Being able to volunteer is reward enough, so receiving this is extra special, and it brings me closer to God. The recognition in receiving something like this has made me feel that all of the faithful approve of me. It brings me comfort to know there's a place for me somewhere in heaven. It makes me feel wonderful."
The diocesan Commission for People with Disabilities works to educate people about the rights and needs of people with disabilities, and promotes the rights of accessibility and participation of all people in liturgical celebrations and catechetical programs. Six years ago, the commission began recognizing individuals, parishes and organizations that seek to include everyone, including people with disabilities, in active parish life. The commission welcomes new members; for information, call Dolores Lopez, 801-328-8641 ext. 333.