Soaring Eagle takes state championship in girls lacrosse
Friday, Jun. 07, 2019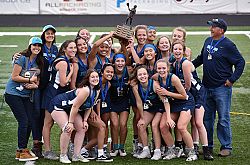 Courtesy photo/Chuck Stolfa
+ Enlarge
DRAPER — As spring turns into summer, Juan Diego Catholic High School girls lacrosse team members are still basking in last month's hard-won state victory.
"It has been a great season. We were not really sure where we fit in this year in the league; we knew we had a talented team and we set the expectations really high for ourselves," coach Sage Johnson said. "We have a core group of senior leadership that Amanda Abraham and I have co-head coached since they were freshmen so we were all on the same page of what the culture of the team would be, and they did a great job keeping that in tune the whole season."
In the UTGL Division II championship May 18 at Corner Canyon, the Soaring Eagle team defeated the Corner Canyon Chargers 12-10. Going into the match, the Juan Diego team was ranked 16th in the league and was the #4 seed in Division II.
"It was a close game," Johnson said. "We were in control much of the first half, but at the end of the half Corner Canyon made a run to put them within two. They ended up tying the game early in the second half and it was a battle back and forth until the end."
In the first half, Juan Diego started off strong. Ryan Stolfa and Lexi Moratalla each scored three goals and Gabby Horner scored a seventh, but then Corner Canyon rallied and scored five goals of its own before halftime.
Early in the second half, Corner Canyon's Kiah Muramoto scored two goals to tie the game. The two teams traded goals for the remainder of the game, but Juan Diego pulled ahead in the final minutes after Ella Candage scored two late goals, leading to the victory for Juan Diego.
While standout players included midfielders Stolfa and Moratalla, along with Caroline Arceneaux on defense, "in the end, the game was won due to contributions from every player on the team," Johnson said. "We are a team-first program and know that our successes only come when we play together as a unit. We celebrate and take all responsibility for successes and failures together."
While reluctant to highlight specific players, Johnson said the senior class did a great job leading and setting the tone for the season.
"If I had to name players, I would say Ryan Stolfa and Lexi Moratalla as midfielders, seniors and captains (other captains Chloe Redican and Paige Cameron) stood out as the constant fire and passion that fueled the team," she said.
"This team was special to us (Amanda and I)," Johnson said. "This state championship was the perfect exclamation point to put on a very unique and special season."