Some local parishes begin limited in-person Mass
Friday, May. 15, 2020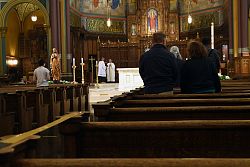 Intermountain Catholic
+ Enlarge
SALT LAKE CITY — With Governor Gary Herbert's lifting of some pandemic restrictions, some Catholics in the Diocese of Salt Lake City have been able to return to live Masses.
Because many restrictions must be observed, and not all parishes are yet able to meet those conditions, each pastor must decide whether his church can be opened for public worship. A dispensation of the Sunday obligation to attend Mass remains in effect for all those who are not able to sign up for a Mass, those who are vulnerable to the virus, or those who feel unsafe at a public gathering at this time.
Under the new conditions, parishioners may attend Mass if they observe proper social distance – sitting at least 6 feet away from those who are not members of their households. While many parishes are making accommodations for this, those arrangements are different based on the size of the parish, the church and its buildings, and the needs of parishioners.
In addition, parishes must make arrangements to sanitize the worship space after each service, meaning that they must acquire the necessary cleaning supplies and find the manpower to do the work.
"It is up to you when you decide to open up your church or mission for public worship," Msgr. Colin F. Bircumshaw, vicar general, wrote in a May 8 email to pastors. "As of yesterday, you can, if you are able, allow more than 20 people to attend, but no more than can fit with social distancing. Social distancing requires 36 square feet of space around each person or family group. … When you decide to open up the church/mission for public Masses is up to you as pastor or administrator. You need to have a well-thought-out plan that you have had time to communicate to your parishioners. This would include some 'signup' process, so that too many people don't show up and get disappointed. … The biggest problem I would see is the ability to sanitize the church after each Mass. Who is going to do it, and where do you get the cleaning supplies? That is why the bishop has left it up to each pastor or administrator to decide when their parish/mission is able to open up for weekend Masses."
In a May 7 memo to the diocese's clergy and staff, Bishop Oscar A. Solis wrote, "This is a critical time for our Church to reignite the faith of the people of God and celebrate the Holy Mass as the summit of our faith and Christian worship. Let us proceed with extreme caution, slowly but safely, to help our parish community adjust to the 'new normal' brought about by the pandemic. We have a grave responsibility to protect life that is sacred and safeguard the health of the people we serve as well as our own."
Requirements for Those Attending Mass
Regardless of the accommodations made at each individual parish throughout the diocese, all those who attend Mass must observe certain conditions:
• Be free of symptoms of the COVID-19 virus.
• Wear a mask when entering and leaving the church. Once seated, masks may be removed.
• In families, parents or older siblings should be seated with one or two younger children.
• No handshaking or contact during the sign of peace
• Communion must be received in the hand. (There will be no distribution of the Precious Blood).
• Avoid socializing or congregating at the entrance of the church and parking lot. (No donuts and coffee after Mass).
• Practice social distancing even in the restrooms which will be marked accordingly.
• Utilize sanitizers which will be provided by the parish.
Parishes will:
• Use long-handled collection baskets or drop boxes for Sunday offerings.
• Sanitize all pews after each Mass.
• Continue to livestream Masses where possible for elderly, ill and high-risk parishioners who should remain home.
Gov. Herbert was expected to announce whether restrictions could be further lifted on May 15, after press deadline. Local Catholics are advised to check their parish website or call the parish office for the most up-to-date information.
Because of the unique situations at each parish, pastors are taking different approaches to reopening for public attendance at Mass. Below are five examples.
Cathedral of the Madeleine
At the Cathedral of the Madeleine, all Masses have resumed but will be limited in capacity. The cathedral rector, Father Martin Diaz, said that although the cathedral can seat 800 people, it is able to accommodate only about 150 people at each Mass under current conditions. Because many of those who normally attend Mass at the cathedral are elderly and in the high-risk category that is being advised to avoid public gatherings, Fr. Diaz said he is unsure how many people to expect at services.
Additionally, because many visitors to Salt Lake City attend Mass at the cathedral, it is not practical for the parish to require online registration or sign ups, particularly for the English Masses, Fr. Diaz said. He is working with the Hispanic parish council to see if such arrangements might work for the Spanish Masses, he said.
"For now, I'm going to see how it starts to play out," he said. "If we end up with a huge number of people that we can't accommodate, then we will need some way to take email or phone-in reservations and determine a schedule."
The current procedure for those who arrive at the cathedral for Mass is for them to be escorted to assigned seating by ushers. When capacity is reached, those who seek to enter the cathedral will be asked to come back another time. Worshippers will line up for Communion 6 feet apart.
"My message is to be patient, be safe," Fr. Diaz said. "Be safe and be healthy. If you are able to come, please come, but the most important thing is stay healthy, stay safe, care for your family. We welcome people joining us, but we also know that health and safety concerns need to be very much in place all around."
Saint Thomas More Parish
At Saint Thomas More Catholic Church in Cottonwood Heights, which has a large congregation, parishioners are required to register online at the parish website to attend Mass. Although the church has a capacity of more than 700 people, social distancing requirements will mean only around 40 will be able to attend Mass in that building, said Father John Evans, pastor.
However, additional seating will be available in the parish's gym and parish hall. Mass will be livestreamed to those venues, and Communion will be brought there.
Using all venues, Fr. Evans hopes that 175 people will be able to attend Mass each weekend, he said.
For weekday Masses at St. Thomas More, initially 10 people will be able to attend, he said. Masses may subsequently be moved to the parish hall, which can accommodate 40 people under the guidelines.
Even with these accommodations, seating will be limited, so parishioners will need to take turns in attending Masses. While parishioners can sign up for specific Masses, the parish will work its way through the list of those who are registered before repeating the list. Fr. Evans estimates that each parishioner will be able to attend Mass once every two to three weeks.
The parish has also acquired infrared thermometers, which will be used if the governor makes taking participant temperatures part of the requirements, Fr. Evans said.
"We're going to be really vigilant," he said. "If we don't, we may backstep and have to close again."
St. Patrick Parish
St. Patrick Parish in Salt Lake City has had to deal with extensive damage to several of its buildings from the recent earthquakes, so all Masses will be celebrated in the parish hall until repairs can be made.
On May 10, Fr. Anastasius Iwuoha, pastor, celebrated the 9 a.m. Sunday Mass with just members of the parish council in attendance. Beginning Sunday, May 17, all regular Masses will be offered and open to parishioners, although only 20 people can be accommodated at each Mass.
Parishioners will be called serially from the parish register by the parish secretary to inform them of their scheduled Mass time. Daily Masses will be held in the Bishop Glass house chapel; a maximum of four people may attend.
Christ the King Parish
At Christ the King Parish in Cedar City, normal Mass times will be observed. Signups will be available on the parish website or by calling the parish office. To allow others to attend, parishioners who are able to get a slot for a Mass are asked to wait to sign up a second time.
For those who attend Mass, the parish's safety and security team will check each person's temperature before guiding them to assigned seats. To limit air movement in the building, the air conditioning will be turned off. Collection baskets will be at the back of the church.
The missions that the parish staff ministers to will remain closed for the foreseeable future.
"Please remember, even if we are separated by distance, we are one community," Fr. Adrian Komar, pastor, wrote in a letter to Christ the King parishioners. "We are one because we are all children of God and we all were redeemed by the Precious Blood of Christ. It is one faith that draws us back to Him. It is one love that creates in us this great desire to receive His Body and to be close to each other in one community. With God's will it will soon happen."
St. George Parish
At St. George Parish, 90 people will be allowed to attend each Mass. Signups will be taken at the church, which is open Tuesday through Friday, 9 a.m. to 3 p.m. There will be two boxes at the west entrance, one each for English and Spanish Masses, where parishioners may place their names and phone numbers. There will be additional boxes at the parish office. At the end of the week the office staff will draw names for the available spaces.
The first set of names will be able to attend Mass on Sunday, with the second set attending Mass on Saturday evening, and then Monday, continuing through the week. Staff will draw from the names collected until the boxes are empty. If social distancing requirements are still in place at that time, the parish will again collect names.
At the Masses, participants will line up 6 feet apart for Communion. Those who attend should plan on sanitizing the pews where they sat with cleaning products that the parish will make available.
The parish's social hall, Kuzy Hall, has been undergoing renovations and is nearing completion. Once it is opened, it should accommodate 180 people. At that time, Mass will be livestreamed there and Communion will be brought to participants.
An additional Sunday Mass will be added at the Hurricane and Beryl Junction missions. Contact the parish office for times.
St. Joseph the Worker Parish
Father Javier Virgen, pastor of St. Joseph the Worker Parish, will wait to begin offering in-person Masses.
"Considering that so many of our parishioners are seniors, and some, like myself, have other health factors, I have decided to remain cautious and postpone allowing additional members to attend Mass at this time," he wrote in a letter to parishioners posted on the parish's Facebook page, adding that he will revisit the issue at the end of the month.
In the letter, Fr. Virgen said that current social distancing requirements would only allow 14 people in addition to the ministers to attend Mass.