Southern Utah blessed by almost 30 years of service from Sister Yvonne Hatt, CSC
Friday, Dec. 01, 2017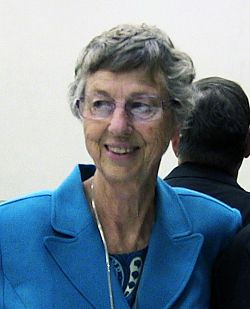 + Enlarge
Holy Cross Sister Yvonne Hatt has touched innumerable lives in her three decades at Christ the King Parish in Cedar City. And after so many years full of service, she is now preparing for her next adventure – retirement.
A native of southern California, Sr. Yvonne entered the Congregation of the Sisters of the Holy Cross after high school. After professing vows, Sr. Yvonne taught first grade for 28 years in California, Idaho and Utah. In 1986 she started her ministry at Christ the King Parish for what she called a "trial run" because she "needed something else to do."
After 31 years in southern Utah, with a three-year hiatus in the Holy Land, Sr. Yvonne has certainly made her mark.
During that time, "here in Cedar City we've had five bishops, five pastors, five associate priests, and we're in our third Catholic church," said Sr. Yvonne, who has served in a lot of ways, from ministering to families in far-flung areas of southern Utah, to working on the computer in the church office, to teaching classes for children and adults, to parish accounting.
Sr. Yvonne said she just did whatever needed to be done.
"Having a nun, a religious woman, was a huge thing for the parish," said Msgr. Robert Bussen, who served as the parish pastor for six years before retiring this summer. "You can always get someone to do the computer work, certificates and accounting, but just her presence as a religious woman was what really mattered."
One of the first things others mention about Sr. Yvonne is her big heart.
"Since her arrival, Sr. Yvonne Hatt has been a dynamic pastoral presence on the landscape of southern Utah," said Msgr. J. Terrence Fitzgerald, vicar general emeritus. "She has made the Holy Cross Congregation charisms of hospitality, hard work, generosity and care for the poor very real."
Evangelization came naturally to Sr. Yvonne, Msgr. Bussen said. "In many ways she was the heart of the parish. She knew everybody – or everybody knew her – in both the civic and parish community. She had an amazing capacity to reach across parish boundaries. It's hard to describe how vast her ministry was and how many people she touched."
Those who know Sr. Yvonne agree that she has a natural ability to love others. Holy Cross Sister Catherine Kamphaus, associate superintendent of Utah Catholic Schools, and longtime friend of Sr. Yvonne, said that she loves parish ministry and people in general. And that love shows in all Sr. Yvonne did.
"For Sr. Yvonne every person is important, worthy of respect and inclusion into the life of the local community," Msgr. Fitzgerald said. "No distance was too far for her to travel to bring the Holy Eucharist to the homebound or to lead distant mission communities in prayer. She has truly been the face of the Church, the heartbeat of the Lord's love for those she meets."
In addition to her huge capacity for love, Sr. Yvonne is known for her handicrafts and her thirst for adventure. Many southern Utahns recognize her beautiful handmade cards and quilts, and have gone to her crafting groups and classes.
Sr. Yvonne has always been a person who loves to experience new things, Sr. Catherine said. For example, Sr. Yvonne was able to recently cross one thing off her bucket list: hiking The Wave.
Nancy Lefort, director of religious education for Christ the King Parish, calls Sr. Yvonne the most wonderful person she has ever met.
"She's not slowing down at all; she's going to keep moving on and checking off those bucket list items," Lefort said. If I can even be a fraction of who she is when I'm 80, I will be happy."
That adventurous spirit showed up in Sr. Yvonne's ministry as well.
"She is undaunted; she will try anything, go anywhere, meet anyone. She'll enter any pastoral circumstance without flinching. She was wonderful in the missions in particular. If they needed anything, she went," Msgr. Bussen said.
As for Sr. Yvonne, she is happy with wonderful memories and experiences from her time at Christ the King Parish.
"It was really great to do such a variety of ministries and serve the wonderful people here in southern Utah. It's been a great experience. I loved it all," she said. "I'm really going to miss this area and the wonderful people that are here."
And they will feel her absence as well.
"She is loved by all. No one will ever fully understand the impact she's had on this community," Lefort said.
"Southern Utah will certainly miss Sr. Yvonne as well as her cat," Msgr. Fitzgerald added.
As Sr. Yvonne prepares to retire to a community home in California, all are invited to a farewell reception on Dec. 17, from 1:30 to 3:30 p.m. at the Heritage Center, 105 North 100 East, Cedar City. It's an open house, so people can come and go as they wish and say goodbye to Sr. Yvonne before she moves on to her next adventure. RSVP to 435-586-8298 or ctkdre@gmail.com.