St. Kateri Mission celebrates patron feast day
Friday, Jul. 19, 2019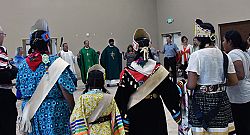 IC photo/Marie Mischel
Photo 1 of 2
FT. DUSCHESNE — Seven years ago, Pope Benedict XVI canonized St. Kateri Tekakwitha on Oct. 21, a Sunday. In Duschesne, the namesake mission of the first North American Indian saint observed the canonization with an outdoor Mass at which the Most Rev. John C. Wester, ninth Bishop of Salt Lake City, presided.
This year, St. Kateri Tekakwitha's July 14 feast day fell on a Sunday, allowing the mission's congregation to gather for a special Mass at which Bishop Oscar A. Solis presided. Concelebrating was Father Arokia Dass David, who had requested that Bishop Solis celebrate the feast day at the mission, which is on the Ute reservation. Fr. Dass David is the administrator of St. Helen Parish and its associated missions.
The July 14 celebration began with a prayer to the saint and a rosary procession that started at the mission and ended across the street at the Community Building. Images of the saint were carried during the procession as the Glorious Mysteries were recited.
At the Community Building, Pamela Martin-Cuch gave a brief biography of St. Kateri Tekakwitha, who lived in the 17th century. She was an Algonquin-Mohawk Indian woman who was orphaned as a child and raised by her uncle near modern-day New York. At the age of 19 she converted to Catholicism and took a vow of perpetual virginity. She chose to be named after St. Catherine of Siena; the name "Kateri" is the Mohawk form of Catherine.
"Kateri was very devout and was known for her steadfast devotion," said Martin-Cuch, who attends the mission.
St. Kateri Tekakwitha died at the age of 24. She is the patroness of ecology and the environment, people in exile and Native Americans.
"We are honored to have her as our patroness, in the only mission for Native Americans in the state of Utah," Martin-Cuch said.
After the presentation about St. Kateri, a traditional Navajo Blessing to the Four Directions was conducted by Ester Martinez; her granddaughter Destiny Slim accompanied her on the drum.
Bishop Solis said that the Mass was celebrated to give thanks to God for the many blessings he has given, but the day was a special moment because, despite the diverse cultural backgrounds of those present, "we are able to transcend those kind of differences or diversity that we have and gather around this altar as one faith family professing our faith, hope and love in Jesus Christ our Lord and savior."
During his homily, which focused on the Gospel reading of the Good Samaritan, Bishop Solis echoed the theme of unity, saying he hoped that the parable would provide inspiration for people to become sensitive to the needs of others and to be willing to extend the love of God to everyone.
After the Mass, Bishop Solis and Fr. Dass joined in two traditional circle dances.