St. Thomas Aquinas program brings music alive for youngsters in the Logan community
Friday, Jan. 11, 2019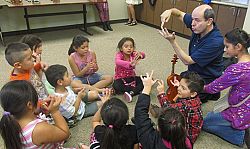 Courtesy photo/Sergio Bernal
+ Enlarge
LOGAN — For the past six years, youngsters in St. Thomas Aquinas Parish and the community who might not otherwise have access to music lessons have had the opportunity to learn and play the violin and other instruments free of charge.
The program, The Young Musicians of St. Thomas Aquinas, is the brainchild of Sergio Bernal, director of orchestral studies and a professor of music at Utah State University. A native of Colombia, Bernal, who came to Utah in 2001 with a job offer from USU, had worked for 10 years for El Sistema, a youth orchestra system in Venezuela.
"That system was created with the idea of bringing music to children and youth to provide them with educational opportunities and a view of the world by working in teams," Bernal said. "Coming to Logan, I saw it might be something worth trying right here, especially with children and youth from underrepresented populations."
In 2012, Bernal and his daughter Gabriela (then 9), who had been playing the violin since she was 3, began offering free lessons to children and youth in the parish. Soon after, they were joined by fellow parishioner Clare Ahn, who plays the piano and organ, and her sons David and Daniel Kim, who play the violin. Gabriela, now 16, David, now 19 and Daniel, now 17, and their parents still teach every Friday. These days, USU alumni Calli Clark and Estelle Rhodes also help out. Each Friday the seven musicians work with anywhere from 10 to 20 children and youth, ranging in age from 5 to 18. One adult, Nancy Espino, has joined them recently.
Instruments are provided free of charge. The first violins came from the Bernals' own collection, but over the years several more have been donated. Young Musicians now has 34 instruments, including three bass, two cellos and one viola. The group performs at community and educational events in Logan and Salt Lake City.
Quetzaly Popoca, 16, and her sister Abril, 12, have been with the program since the beginning. Over the years, Quetzaly Popoca has developed her skills to the point where last summer she, along with Daniel Kim and Gabriela Bernal, was invited to take part in an international music festival, La Via dei Concerti, in Trento, Italy, where Sergio Bernal guest conducts each summer.
"It was a great cultural experience to participate in," Quetzaly Popoca said.
While she said she probably would have been able to pursue group violin lessons without Young Musicians, Popoca said she now has private lessons, something the program is making possible for her.
Popoca plans to attend university to pursue a degree in nursing. She hopes to minor in orchestra while there. Young Musicians is doing a very good job in allowing other children to experience the joy of music and to be able to learn to play instruments, something they would not be able to do on their own, she said.
Bernal said the program is a way for him to give back in gratitude for all he has been given in life.
"In my life I have been very provident to have had support from my father, teachers and friends in my music endeavors," he said. "I have grown very much as a person because of my musical activity; it is a guiding light in my life."
Bernal said the program is very rewarding for him and the other teachers.
"After a long week of work or school, we are energized when we work with the children," he said. "It makes us happy and gives us a sense of joy."
Bernal has seen a change in his young students over their time in the program.
"I can tell that they start becoming more focused and their parents tell me they do better in school, also in social relationships and in their social skills," he said.
Young Musicians gives the youth the opportunity to become leaders and to be active participants through games and other experiences, he said. The older children also help instruct their younger peers.
Another thing the program gives these children is exposure to the university. Many of the activities are coordinated with USU and the young musicians get to rehearse at the university and to perform with the symphonic orchestra. They also collaborate with other youth organizations and schools such as Systeme Utah and Mountain West String Academy for special events. Bernal hopes this exposure will give them a desire to go to university and to further their education.
"They start seeing the possibility in the back of their minds of themselves becoming university students," he said. "As they develop their abilities, they get more confident and want to apply to become students at the university and to do well."
About two-thirds of the students in the program come from St. Thomas Aquinas Parish. The rest read a Herald Journal newspaper article about the program or came through word of mouth.
Bernal is working to put together a scholarship program that would fund private lessons for some of the more advanced students. Fundraising is under way.
Bernal hopes the program will continue to grow while still keeping it a manageable number of students. The program could never had enjoyed such success without the support of the parish, including the former pastor, Father Francisco Pires; the current pastor, Father Fernando Velasco; and the parishioners, he said.