St. Thomas More parishioners named Family of the Year
Friday, Jun. 08, 2018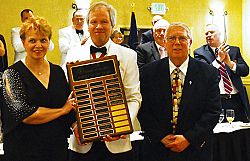 IC photo/Marie Mischel
+ Enlarge
SANDY — The Mark and Mary Solak family of Sandy was named the Utah Knights of Columbus 2017 Family of the Year during the awards dinner at the Knights' annual convention in Park City May 5.
The Solaks, who are originally from Michigan, came to Utah in 1992 by way of Auburn, Calif. Mark Solak became a Knight in Auburn because, he said, he wanted "to put his faith into action." When the family moved to Utah for Mark's employment (he owns a meteorological consultation firm) he remained active in the organization. Impressed by the Knights' good works within the parish, diocese and community, he serves in his council as his schedule allows.
In 2010 Mark was ordained a deacon for the Diocese of Salt Lake City. The desire to do so developed over many years, he said.
"As I began to take my faith more and more seriously, I wanted to be involved and to put that to work," he said. Since his ordination, he has been actively involved in his parish, St. Thomas More, with those responsibilities.
Mary Solak, who is the director of the project management office for a technology development company, also serves in many capacities in the parish. She is a member of the parish council, finance committee and capital campaign committee. In addition, over the years she has been involved in the parish's Days of Yore celebration and ran the ducky derby for several years.
"Our family is really very involved in giving back to our parish and to the community," she said.
The couple has been married 47 years; they have two children, Erica and Ed.
"She is very supportive, loving, very understanding and puts up with my nonsense," Mark said of Mary.
For her part, Mary described Mark as "very strong in his faith, an excellent husband, very devoted father and very dedicated" to his parents and to the parish.
Last September, Mark spent almost five months taking care of his parents, who live in Florida. He had planned a four-day trip to make sure they were safe during Hurricane Irma, but after his father sustained a severe cut while they were evacuated to a shelter, Mark stayed on until they could resume their lives independently.
Erica and Ed, who attended parochial schools and graduated from Judge Memorial Catholic High School, are also very active in their faith and have been throughout their lives.
"Mark has been very engaged in whatever he has done and that has rubbed off on both our kids," Mary said, while Mark is quick to deflect the credit and said he believes much of his children's commitment comes from their years in the Catholic school system.
"In that environment, the concept of exercising your faith is reinforced, which is a good thing," he said.
Erica, who holds a fine arts degree, served four years as a U.S. Marine and was deployed to Iraq. She lives in South Carolina and is active in her parish community there. She is engaged to be married.
Ed graduated from Westminster College with a degree in physics and is pursuing a degree in engineering. St. Thomas More Parish is an intrinsic part of his life: He works with the youth group, helps with retreats and volunteers at the parish dinners and fish frys.
Both Mark and Mary were surprised to receive the Family of the Year award.
"Many people do many very important things," Mark said. "I don't see what we do as any more important than a lot of people. It caught us off guard."
"We're a pretty active family but were also more behind the scenes," Mary added. "We don't go for a lot of notoriety."
Both said their service is a reflection of what they see and experience around them.
"We're very lucky to have been a part of the Catholic community in the Salt Lake Valley," Mary said. "People are warm and loving and willing to step out of their own lives to help others."