Stamps help Sisters of the Holy Cross
Friday, May. 15, 2020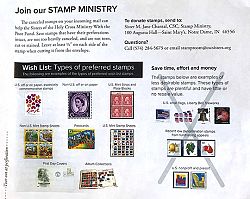 Intermountain Catholic
+ Enlarge
SALT LAKE CITY — While personal letters and correspondence have become increasingly less common, those who do use this form of communication may be able to help the Sisters of the Holy Cross by saving any unusual cancelled stamps they receive.
Through their stamp ministry, the sisters gather unusual cancelled stamps and sell them to collectors. The funds they receive from the sale support their ministries, which include helping the underserved in Africa, Asia and North and South America, providing education and health care for those communities and helping to fill other needs.
In the past, Utahns could send their stamps to Sr. Karla McKinnie, CSC, who was director of Utah Catholic Schools' special needs program. However, in 2016, Sr. Karla relocated to the order's motherhouse in Notre Dame, Ind. Now, Sr. Genevra Rolf, CSC handles the local stamp ministry.
Not all stamps are worth passing on to the sisters. Sr. Genevra recently received a package of stamps, but "the majority of the stamps were of no value" because they have little or no resale value, she said.
Collectable stamps include U.S. commemorative stamps and stamps from overseas. These can be either on paper, such as an envelope, or off paper. Also collectable are U.S. mint stamp sheets, mint strips or plate blocks, non-U.S. mint stamp sheets, First Day Covers, postcard stamps and album collections.
The following stamps have little value and cannot be resold: U.S. small flags, Liberty Bell, fireworks, recent low-denomination stamps from fundraising, U.S. non-profit and presort.
Those who save stamps should make sure the perforations are intact, are not too heavily canceled, and are not torn, cut or stained. Also, leave at least 1/4 inch on each side of the stamp when cutting it from the envelope.
Send stamps for the ministry to:
Sr. M. Jane Chantal, CSC – Stamp Ministry
100 Augusta Hall – St. Mary's
Notre Dame, IN 46556
For information, contact Sr. Jane at 574-284-5675 or stamproom@scsisters.org.